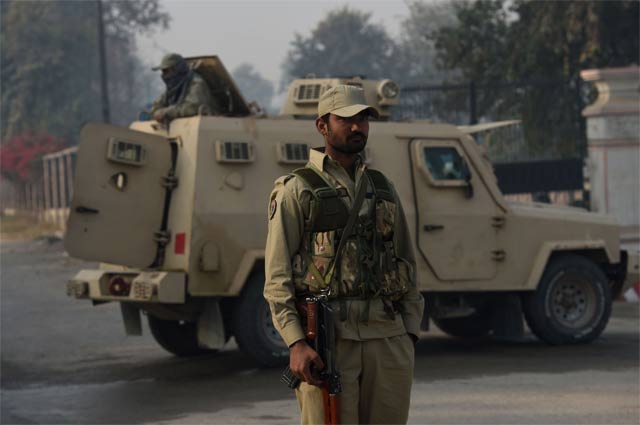 ---
At least four militants were killed when Frontier Corps personnel retaliated to a suicide attack by the militants on Ghalani Camp Headquarters in Mohmand Agency early Saturday morning.
Two FC soldiers were killed in the attack, Director General ISPR Lieutenant General Asim Bajwa said on Twitter.
Bajwa, in his tweet claimed that security officials 'defeated' the suicide attack by successfully killing all four bombers who had entered the camp.
Security Forces valiantly defeated Suicide Attack on Ghalani Camp in Mohmand Agency killing all
4 Suicide Bombers.Own 2 sldrs martyred

— Gen(R) Asim Saleem Bajwa (@AsimBajwaISPR) November 26, 2016



Two security forces personnel were killed in efforts to block suicide bombers, ISPR said in a statement.




Govt-run boys' school comes under attack in Mohmand Agency




"According to details, at around 6am, four suicide bombers who were heavily armed, attempted to enter Ghalani Camp and attack a mosque where a large number of recruits were also present." The attackers were wearing suicide jackets and opened fire while attempting to enter the mosque.




"They were taken on and contained in the outer courtyard of mosque. Security forces surrounded the attackers and killed all of them."




Meanwhile, General Raheel highly appreciated the security forces for successfully defeating terrorists attempt at Ghalani camp in Mohmand Agency, the ISPR said. Vigilance and prompt response of security forces have saved many precious lives, he added.




Further, Commander 11 Corps Lt Gen Hidayatur Rehman visited Gallanai, Mohmand and appreciated the forces for foiling the terror attempt. He also visited Combined Military Hospital (CMH) and inquired about the injured personnel and civilians admitted there.




Five security personnel injured in Mohmand Agency IED explosions




Jamaat-ul Ahrar, a breakaway faction of the Tehreek-e-Taliban Pakistan (TTP), claimed responsibility for the attack.




On Friday, a government-run primary school for boys was blown up and damaged in Mohmand Agency, Federally Administered Tribal Areas (Fata), with the attack being the first on a school in almost two years.


Political administration official upper Mohmand Agency said the incident occurred in Chamarkand area after some miscreants planted explosives in the school premises late Thursday night. No loss of life was reported.

The blast left the school building, including two rooms and the veranda of the building damaged. Security forces cordoned off the area on Friday and a search operation commenced in the area.
COMMENTS
Comments are moderated and generally will be posted if they are on-topic and not abusive.
For more information, please see our Comments FAQ