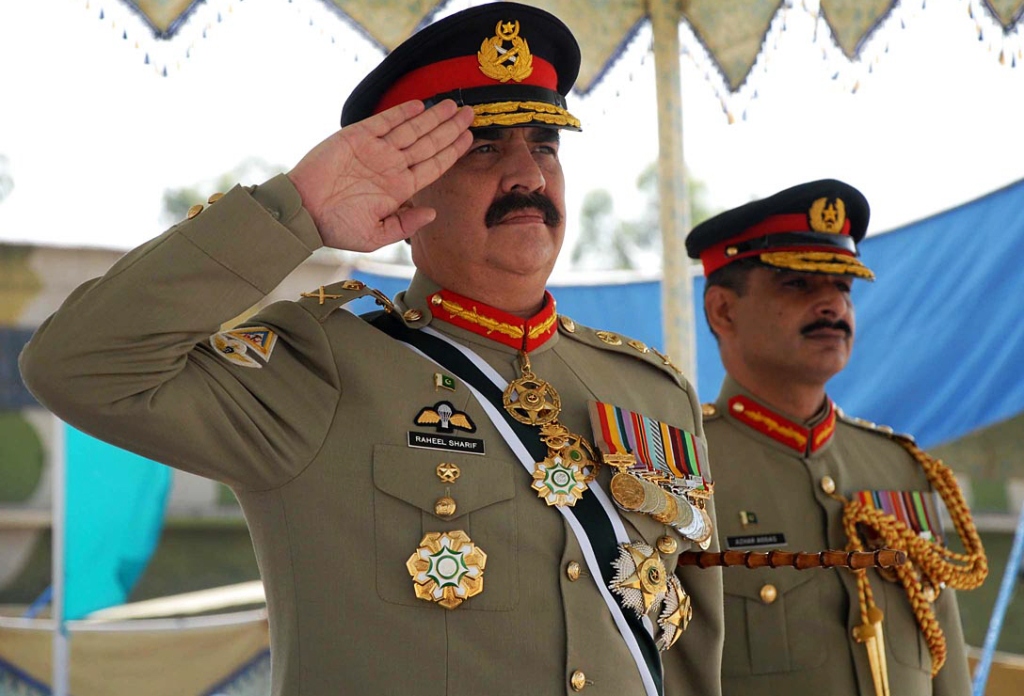 ---
ISLAMABAD: President Mamnoon Hussain on Friday toasted General Raheel Sharif's successful three-year tenure as military chief during which the country boldly confronted both internal and external challenges in coordination with all state institutions.

The president expressed these views while speaking at a farewell dinner he hosted for Chief of the Army Staff General Raheel Sharif here at the Aiwan-e-Sadr. The dinner was attended, among others, by services chiefs, federal ministers and parliamentarians.

Suspense over next army chief may end within 24 hours

The president congratulated General Raheel on the successful completion of his tenure as chief of the army staff with both "honour" and "dignity".

He also appreciated Gen Raheel for his leading role in the fight against terrorism and extremism through an effective strategy under the National Action Plan.

The president said: "Gen Raheel Sharif during his term as COAS served the country as a true professional soldier and set an excellent tradition of moving ahead in mutual harmony with all state institutions."

"As bravery, professionalism and best discipline are the hallmark of the armed forces, General Raheel Sharif further strengthened this identity of the armed forces during his term in service," he added.

Farewell General Raheel Sharif

The president appreciated the valour with which the internal and external challenges were tackled during the last three years.

He said: "Unity and harmony among all state institutions was a must for the betterment of country and masses," adding, "The welfare of masses should be the focal point in state affairs."

The president wished General Raheel success in his future endeavours and prayed for his as well as his family's health, happiness and prosperity.

Earlier, the president and the army chief had a farewell meeting during which General Raheel Sharif thanked the president for his guidance and cooperation during his tenure as COAS.

Published in The Express Tribune, November 26th, 2016.