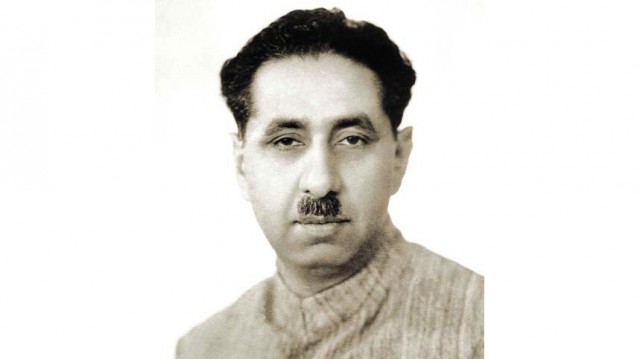 ---
KARACHI: He sat next to the driver in his car, never used an official flag to show off and rejected all invitations to exclusive receptions and parties.

And as the premier of Sindh, Allah Bux Soomro must have been invited to a fair share of important events. May 14 marks the 67th anniversary of the politician who was, for many, also a hero. Soomro is remembered by many as an unassuming, upright and honest man, who was active in the politics of the province. Writing about his character, PV Tahilramani and KR Malkani said in their book, 'The Sindh Story', that Soomro would always choose the upper berth in trains and let others use the more convenient lower seats.'

His family remembers the time when a flood threatened to inundate Shikarpur and Soomro diverted the raging waters to his own land to protect the homes of others. Allah Bux Soomro was born in 1900 in Shikarpur. He matriculated from the Hopeful Academy in 1918 and joined his landlord father's business as a contractor. Then, at the age of 23 he entered politics. He was elected to the Jacobabad Muncipality. His success was rapid and soon, he became the president of the district local board. In 1926, he defeated an influential feudal lord and became a member of the Bombay Legislative Council (BLC), where he remained for the next 10 years. Soomro represented upper Sindh in the BLC.

He helped initiate the Sukkur Barrage project, which in large part, was responsible for revolutionising agriculture in Sindh. After the introduction of provincial autonomy in 1936, Shahnawaz Bhutto, Abdullah Haroon and Allah Bux formed the Itehad (Unity) Party. The party won a resounding victory, capturing 24 of 35 Muslim seats in a house of 60.

It was on March 23, 1938 that Soomro became the premier of Sindh. During his tenure he insisted that cabinet ministers are paid low salaries and he took away magisterial powers from influential landlords. Soomro met Mohammad Ali Jinnah in Karachi, where Jinnah was holding a meeting to launch the Muslim League in Sindh. He was invited to join the League, as were the premiers of Punjab and Bengal, who were present at the meeting. Both premiers accepted after long debates but Soomro held back.

Another meeting was held on October 14, when a number of Sindh Assembly members joined the party. But the balance shifted when some Muslim League members proposed a new leader in Sindh. Soomro opposed, asking why Sindh should be the only place where a different leader was being considered. And so, the alliance between Soomro and Muslim League dissolved before it was even made. Opposition from the Muslim League and communal riots in 1939 led to Soomro being dislodged from his post.

The League managed to form a government in Sindh that lasted for a year. In 1941, Soomro was made premier again. Soomro was awarded the title of Khan Bahadur and the Order of the British Empire by the British and the viceroy nominated him to the Defence Council of 30. But he renounced his honours in September 1942, writing to the British that he could not support their subjection of Indian forces for their own imperialistic aims.

It might have been his nationalistic stance that led the British governor to remove him from his post on October 10, 1942. The reason given by the British was that they just did not have confidence in Soomro anymore. Allah Bux Soomro was assassinated at 9 am on May 14, 1943. He was travelling on a tonga in Shikarpur when four men attacked him. His case was tried in a special tribunal but 67 years later, it still remains unresolved.

After his death, government offices, schools and markets were closed throughout Sindh and the Union Jack flew at half-mast in respect and memory of the man. "Today he [Soomro] is sleeping in his grave in the Panjpir graveyard," said Sindh nationalist leader G M Sayed, "We can't say whether he would be laughing at our condition or weeping!"

Published in the Express Tribune, May 12th, 2010.
COMMENTS
Comments are moderated and generally will be posted if they are on-topic and not abusive.
For more information, please see our Comments FAQ