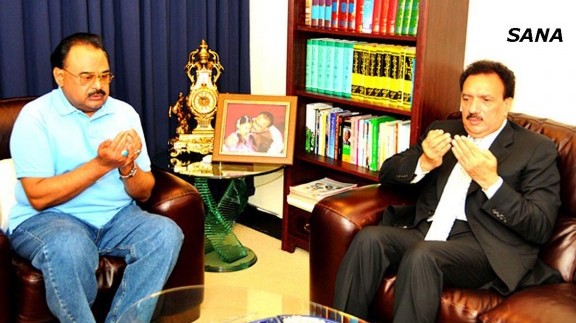 ---
KARACHI: Federal interior minister Rehman Malik called on MQM chief Altaf Hussain at the MQM London secretariat and delivered assurances of not restoring the previous status of Hyderabad districts.

The assurances were offered on President Asif Ali Zardari's behalf.

Prime Minster Yousaf Raza Gilani earlier said that the division of the district had been a great disservice to the area and that its old administrative structure will be restored.

However, earlier on Tuesday, the MQM and the PPP came to another political impasse over the appointment of Chairman of the Karachi Water and Sewerage Board, on Tuesday, following the Hyderabad dispute.

Sindh Chief Secretary Fazal-ur-Rehman has issued a notification appointing Local Bodies Minister Agha Siraj Durrani as the Board Chairman.

Sources said the core committees of the PPP and the MQM had earlier agreed that the next board chairman will be from the MQM, but Durrani is from the PPP.

Durrani had also been appointed as the Water board's chairman in 2008 but President Zardari ordered his removal following protests by the MQM.  Mustafa Kamal was then given the post.
COMMENTS (1)
Comments are moderated and generally will be posted if they are on-topic and not abusive.
For more information, please see our Comments FAQ