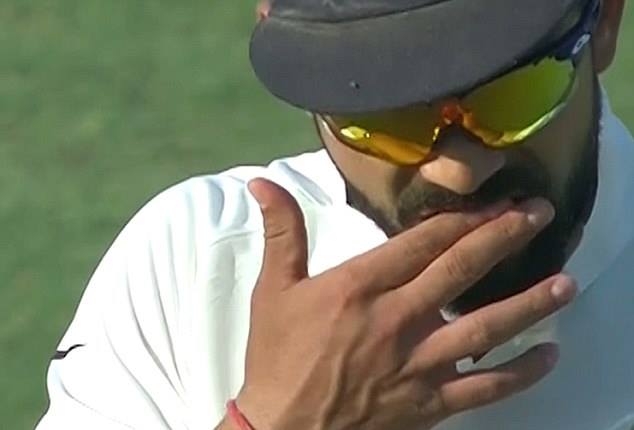 ---
ISLAMABAD: Former Pakistan Cricket Board (PCB) chairman Khalid Mahmood on Tuesday demanded the International Cricket Council (ICC) to take action against India's Test captain Virat Kohli for ball-tampering.

In a video circulating on social media, Kohli can be seen shining the ball during India's first Test against England at Rajkot in a similar manner that had prompted the ICC to take action against South African skipper Faf du Plessis.

However, the governing body said no action could be taken now since the five-day window has passed, reported cricket.com.au.


Faf du Plessis fined entire match fee for ball-tampering



ICC says Faf du Plessis guilty of ball tampering using mints, Here is virat kohli Doing The Same. Why wasn't he punished? ICC = Big 3 pic.twitter.com/6FSH9sjnQY

— Asfandyar Bhittani (@BhittaniKhannnn) November 22, 2016


Mahmood said whenever any Indian player is found involved in some wrongdoings, the ICC behaves differently.

"We don't see application of same rule for India. ICC always treats India differently. Such an attitude is harmful for the game of cricket," he said, adding that not only the Indian captain, but also the match referee and field umpire should have been penalised for their ignorance.


I'm no cheat, says Du Plessis after tampering row


Former Pakistan leg-spinner Abdul Qadir backed Mahmood's demand to discipline Kohli for ball-tampering. "He should also be fined," he said while talking to a private news channel.

Qadir added: "If ICC doesn't take any action against him [Kohli], then all the member boards should urge it to take action against him. ICC should ensure that rules are same for everybody."


South African cricket official assaults TV reporter attempting to interview Du Plessis


The former leggie also asked member boards to send letters or emails to the ICC to look into the matter. "When it comes to a ban on a Pakistani player for bowling action, then ICC steps in promptly and puts a ban. But in case of an Indian player it has backed out," he said.

Former cricketer and chief selector Haroon Rasheed also noted ICC's silence on the matter. "According to ICC's rules, action against a player is only taken if he is reported by the referee or field umpire," he said, adding that Du Plessis was reported by the umpires, but in Kohli's case they kept mum.