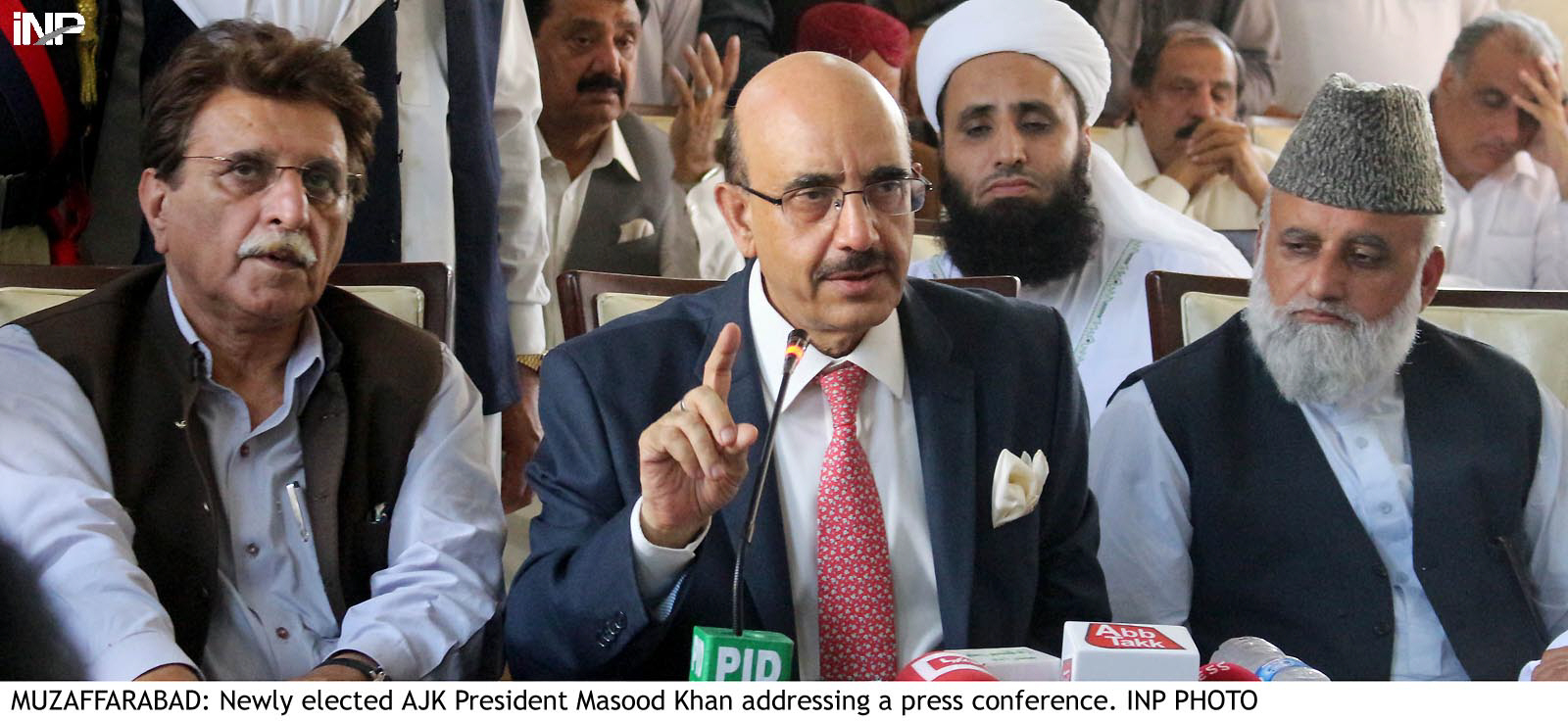 ---
ISLAMABAD: Prime Minister Nawaz Sharif has tasked the AJK government and the PML-N (AJK chapter) to reach out to the Kashmiri leadership in Indian Occupied Kashmir in an effort to chalk out a joint strategy to keep the burning issue in the limelight.

In this connection, the AJK government and its political setup are set to hold crucial consultations with the top leadership of the All Pakistan Hurriyat Conference (APHC) in Srinagar in the coming days, The Express Tribune has learnt on reliable authority.

Govt to step up diplomatic drive on Kashmir issue

Pakistan's diplomatic mission in India has been instructed to work in coordination with the AJK government to provide necessary facilitation, official sources in direct knowledge of this development said.

The sources said the prime minister and his close aides, in consultation with the security establishment, have chalked out a two-pronged strategy to bring into the loop the Hurriyat leadership on Pakistan's policy on Kashmir.

The strategy envisages establishing official contacts from the government's platform and political contacts at the unofficial level to incorporate the relevant input officially as well as through political channels.

"There are political dimensions that need to be dealt with politically. And there are official channels to take care of official business," the officials commented. The role of Pakistan's diplomatic mission in India would be of a facilitator in the official-level contacts, they said.

Pakistan should not internationalise Kashmir issue: Indian minister

Speaking to The Express Tribune, head of APHC (Pakistan chapter) Syed Yousaf Naseem said the Hurriyat leadership welcomes every initiative taken by the government or any political party to highlight the plight of Kashmiris.

He stressed the need to empower the AJK government financially and politically to effectively pursue the Kashmir cause at the international forums.

"In AJK, we have seen veteran politicians like the late Sardar Abdul Qayyum Khan who highlighted the Kashmir cause in the most effective and bold manner at every forum.

"We have seen that an effective governmental-level effort on the part of AJK is lacking. Empowerment of the AJK government is the key to pursuing the Kashmir cause."

Official sources said AJK Prime Minister Raja Farooq Haider on Monday held important meetings in Muzaffarabad regarding the government's upcoming plans to highlight the Kashmir issue.

The visits of Hurriyat leaders abroad and their meetings with senior UN and human rights officials and the world leaders are likely to be planned in the days to come.

Published in The Express Tribune, November 22nd, 2016.