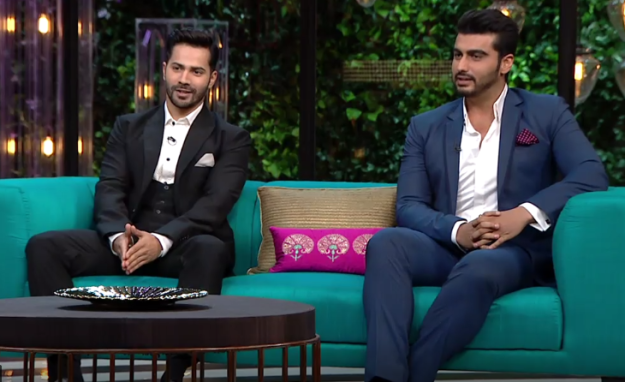 ---
Childhood best friends Arjun Kapoor and Varun Dhawan appeared on Koffee with Karan for the very first time in the latest episode.

In case you missed out on the epic discussion the two Bollywood actors had with the host, here's a compilation of the most hilarious moments from this episode.

Sania Mirza all set to sizzle on Koffee with Karan

1. When Varun referred to himself as a nudist.




2. When a movie clip that they had shot in acting school was shown and both of them gave contradictory reactions while watching.




3. Varun expressed pride over having this old video finally shown on  national TV. Arjun did not share the same feelings.




4. When during a round of "Kill, Marry, Hook-up", Arjun threw some light on his bromance with Ranveer.




5.Which escalated to Arjun getting really possessive about Ranbir.




6. Priyanka Chopra first in a list of actresses by Varun because of her acquaintance with Dwayne Johnson




7.When Arjun became quite competitive and desperate over winning the hamper causing Varun to probably reconsider their friendship.


Have something to add to the story? Share it in the comments below.