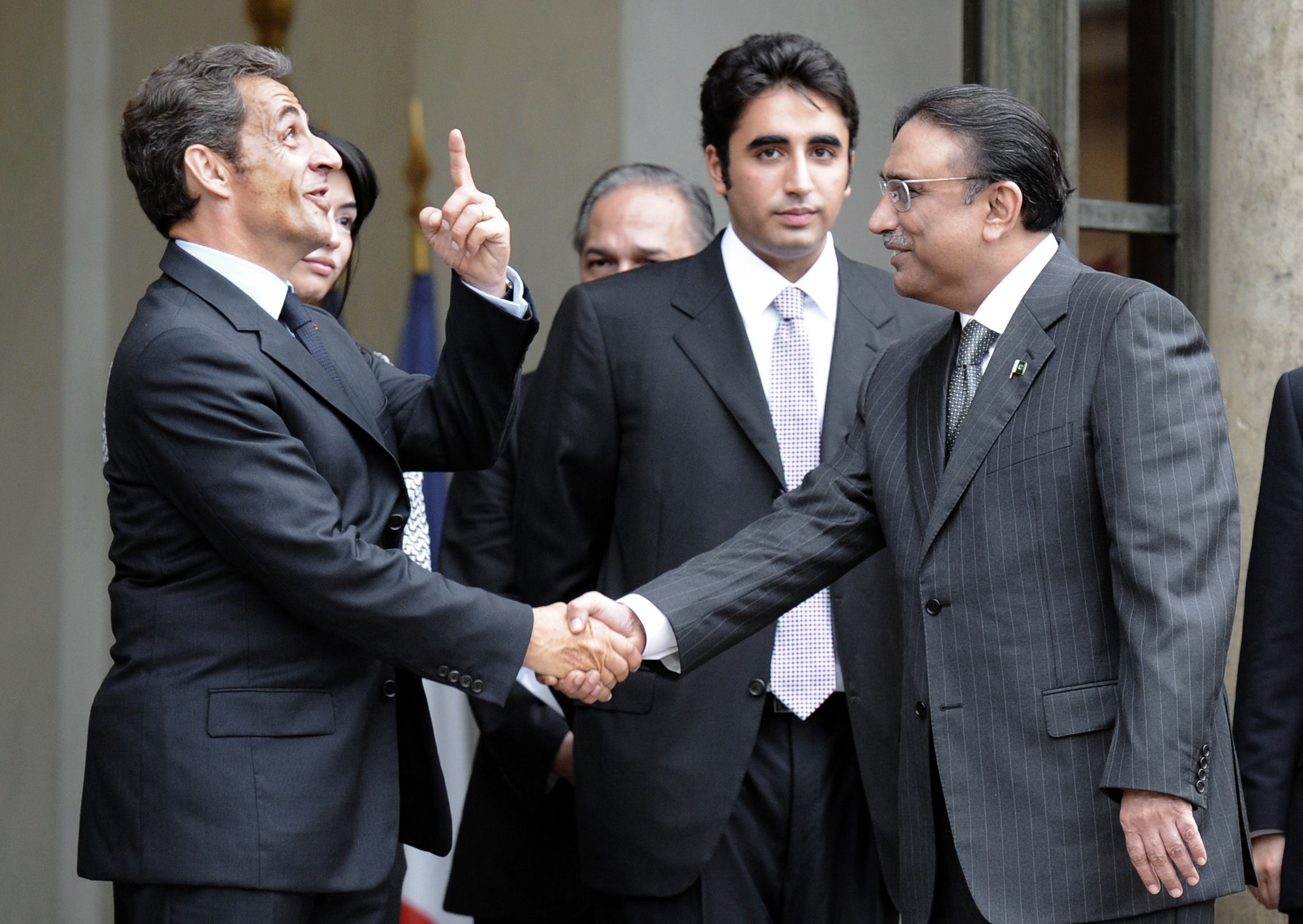 ---
KARACHI: The young PPP chairman, Bilawal Bhutto Zardari, is becoming increasingly mobile, vocal and articulate. It's not just in the virtual world, he is making his presence felt in the real world, too. He is reorganising his party, leading public rallies, touring cities outside his party's powerhouse, and firing broadsides at political rivals every now and then. He is establishing, or at least trying to establish, himself as the leader of a party which is trying to re-emerge on the country's political landscape dominated by Imran Khan and the Sharif family.

There is no denying that the PPP is a shadow of its former self, nudged aside by Imran's Pakistan Tehreek-e-Insaf as a formidable adversary of the Pakistan Muslim League-Nawaz in Punjab, and reduced to a provincial party. The humiliating drubbing in the 2013 elections triggered serious soul-searching within the party. "What went wrong?" "Who is to blame?" "What should be done to regain the lost ground?" These were the questions on every jiyala's mind.

Panama Papers: Bilawal wants 'democratic accountability' of rulers




The party's sagging fortunes were partly ascribed to the 'unpopularity' of Asif Ali Zardari, the co-chairman of the PPP. And the party's bigwigs realised that a 'Bhutto' suffix was important to carry forward the political legacy and steer the party out of troubled waters. Bilawal was rechristened, though that didn't make him a scion of the Bhutto dynasty per se.

But PPP stalwarts consider him a real heir to the Bhuttos. "He [Bilawal] has succeeded his mother as party chairperson and inherited politics from his grandfather, Zulfikar Ali Bhutto, and great grandfather, Sir Shahnawaz Bhutto," says Senator Saeed Ghani. "Politics is in his genes."

Though Oxford graduate Bilawal was launched as the new face of the party, many political observers believe it's Zardari who is still calling the shots in the party. Senator Ghani disagrees. "He [Bilawal] is independent in making his decisions," he claims.Bilawal was too young to lead the party when his mother, Benazir Bhutto, was assassinated in a gun and suicide attack in 2007. In 2012, the party's top cadre decided to launch him on the 5th death anniversary of Benazir in Garhi Khuda Bux, Larkana. In a choreographed speech scripted in Roman Urdu, he hit out at the judiciary for its failure to punish the killers of his mother. But he couldn't make a mark and failed to inspire and impress. The result was a humiliating defeat in the 2013 elections, though some would attribute it to the absence of campaigning by the party due to militant threats.

While Bilawal was studying at Oxford, Pakistan's then high commissioner in London, Wajid Shamsul Hasan, had been tasked with grooming him politically. And when the young Bilawal returned to Pakistan, he became a protégé of Owais Muzaffar aka Tappi (Zardari's stepbrother), Faryal Talpur (Zardari's sister), Rukhsana Bangash (Zardari's political secretary), MNA Shagufta Jumani and their ilk. The Sindh-centric approach of his new mentors angered Zardari who wanted a bigger role for his son.




Zardari asked people in Bilawal House to avoid ethnopolitics because he wanted Bilawal to grow into a national leader, according to a senior PPP leader. After a brief hiatus, another team had been assigned the task of Bilawal's political grooming. Hisham Riaz Sheikh, son of Zardari's old friend Riaz Sheikh, was appointed Chief of Staff to Bilawal, while Jahangir Badar, Bashir Riaz, Ghazanfar Ali Gul and Barrister Masood Kausar were named his advisers. Fawad Chaudry and Jameel Soomro became his media advisers. Subsequently, he launched frontal attacks on MQM founder Altaf Hussain after an upsurge in targeted killings in the metropolis.

Zulfikar Ali Bhutto & Sino-Pakistan diplomacy

Bilawal's vitriolic rhetoric soured PPP's relations with the MQM, which was its coalition partner in the provincial government. "All of Bilawal's speeches used to be scripted in consultation with his advisers who also guided him on different issues," says a member of the PPP's central executive committee. "Interestingly, most senior leaders who were once close to Benazir Bhutto kept a distance."

After the 2013 elections, differences reportedly emerged between Bilawal and his father who subsequently banned the entry of all his son's advisers, including Hisham Riaz, into Bilawal House. Bilawal abruptly left for London. After his Master's, he was persuaded to come back to salvage the PPP. "Party's senior cadre decided to re-launch Bilawal with proper training to undo the damage or to at least stop further damage to the party's image," says a PPP leader.

Nisar Khuhro, a senior PPP leader from Sindh, seeks to quash the impression of a tiff between the father and the son. "It was media propaganda," he says. "Bilawal thinks differently and has his own vision. His mother is his role model, and one can see Benazir Bhutto's reflection in him. No one can dictate to him."

Sources in the party say Bilawal's aides and mentors have been changed – for a third time. Now, he has stalwarts like Aitzaz Ahsan, Khursheed Shah, Qamar Zaman Kaira and Sherry Rehman among his guides. The deputy speaker in the Sindh Assembly, Shehla Raza, has been entrusted with the task of teaching him Urdu.

"Debriefing sessions on national and international issues are held in Bilawal House, where he is briefed on the current geo-political situation," confirms Raza. "Bilawal himself has developed a keen interest in key issues and he studies a lot."

Fracturing of Pakistani politics

One of the Bilawal House employees says the budding PPP chairman regularly listens to the speeches of his mother and maternal grandfather and tries to copy them.

But detractors say Zardari is still pulling the strings. "The decisions come from Dubai [where Zardari is based]," says noted Sindhi writer and editor of Affairs magazine, Dr Ali Rind. "Bilawal wanted to revamp the party at the grass-roots level by bringing in young people, but the party is still busy roping in influential feudal lords," he says. "This shows Zardari is calling the real shots."

But PPP leaders disagree, claiming that the recent reshuffle in the Sindh cabinet, including the replacement of octogenarian Qaim Ali Shah with Murad Ali Shah as chief minister, was Bilawal's decision. "Bilawal wants to bring in change which is why he brought in a 'young chief minister' and changed the makeover of the provincial cabinet," says Khuhro.

Bilawal is said to be an avid reader, with an eye on national and international issues, but that doesn't reflect in his speeches. Reportedly, he was given the same scripted speech to read out on several occasions, including on the last death anniversary of his mother and in a recent public rally in Ghotki.

"We don't give him a script. He improved his language skills on his own and writes himself in Roman Urdu," claims Raza. "He is a genius like his mother," she adds. "Besides Urdu and Sindhi, he has also started learning other regional languages like Seraiki and Punjabi."

According to his party, Bilawal, now 28, will contest the 2018 elections from his family constituency of Larkana.

Though the PPP is now confined to Sindh, its leaders see Bilawal as the next prime minister of the country.

Published in The Express Tribune, November 21st, 2016.
COMMENTS (7)
Comments are moderated and generally will be posted if they are on-topic and not abusive.
For more information, please see our Comments FAQ