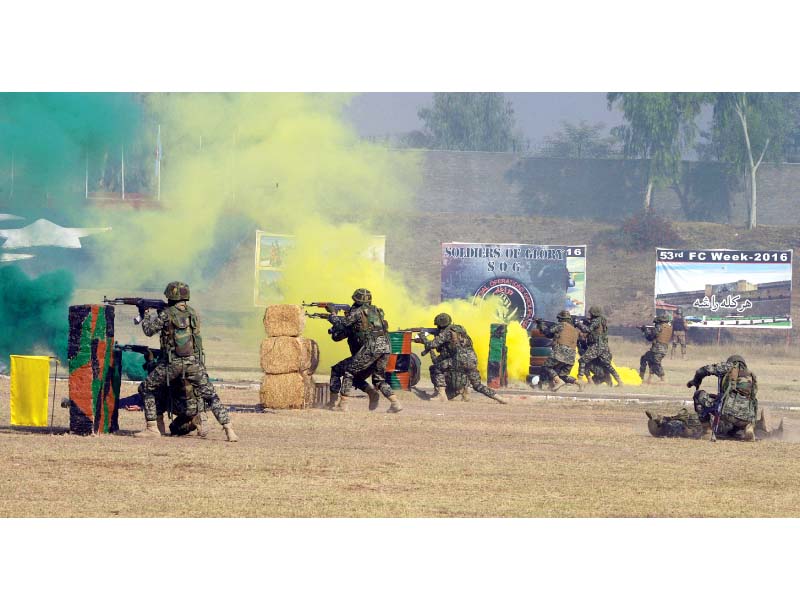 ---
PESHAWAR: Corps Commander Peshawar Lieutenant General Hidayatur Rehman on Saturday said that militancy has been successfully eliminated from the Federally Administered Tribal Areas (Fata) but there are still safe havens for terrorists across the border in Afghanistan. From these safe havens militants have been known to launch attacks in Pakistan.

"The Frontier Corps (FC) has played a tremendous role in eliminating militancy in Fata and settled areas of the country and establishing the writ of the government in tribal areas," Lieutenant General Hidayatur Rehman said in an address at the '53th FC Week' in Peshawar's Sher Khan Shaheed Stadium.

He said the sacrifices of the FC jawans were not less than the sacrifices of other security forces, protecting peace and sovereignty of the country. Paying tributes to the FC martyrs, he announced that soon there would be two FC headquarters which will be equipped with modern equipment.

Rehman also appreciated the role of the FC jawans and officers in border management. "The purpose of the FC week is to celebrate the martial spirit and cultural norms of the Frontier Corps," he said.

On this occasion, the FC special combating groups and women soldiers presented their fighting skills.  The FC jawan also performed Khattak and Kalashi cultural dances.

The FC band played the national anthem and cultural tunes. A tent pegging event was also held. Different stalls representing various cultures were also established to promote tribal and K-P culture.

Published in The Express Tribune, November 20th, 2016.