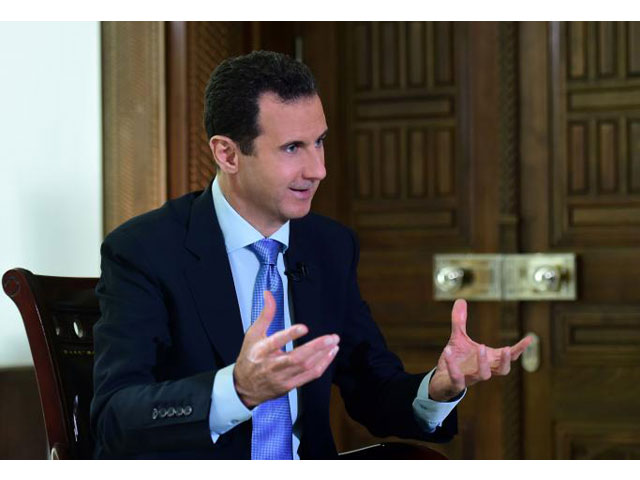 ---
Syrian President Bashar al Assad suggested on Tuesday that the US president-elect Donald Trump could be a natural ally of Damascus in fighting militants.

"We are very cautious in judging him [Donald Trump] ... But let's say if he is going to fight the terrorists of course we are going to be (an) ally, natural ally with the Russians, with the Iranians," Assad told a Portuguese television channel in remarks released by Syrian state television.

Assad said the Republican leader had made promising comments on the need to battle militants in Syria's war but "can he deliver?"

"We don't have a lot of expectations because the US administration is not only about the President ... So we have to wait and see when he embarks on his new mission as president in two months' time," he said.

"What about the countervailing forces within the (US) administration?" Assad asked, pointing to what he said were rival "lobbies and powers" that traditionally influence any incumbent US president.

Trump win makes 'no difference' to Iran: Khamenei

Trump has struck a different tone to current US policy on some aspects of the multi-sided Syrian conflict, where the United States with allies Turkey and Saudi Arabia has backed some of the insurgents who have been fighting to topple Assad for more than five years.

Trump has questioned the wisdom of backing rebels, played down the US goal of getting Assad to leave power, and noted that while he didn't like him, "Assad is killing ISIS" with Iran and Russia. ISIS is an acronym for Islamic State

"That's why for us it's still dubious whether he (Trump) can do or live up to his promises or not," Assad said.

Damascus had long hoped it could win back international legitimacy as part of the international fight against Islamic State, but the United States has rejected that idea, viewing Assad as part of the problem.

Assad said he was ready to cooperate with Washington if it ended its policy of supporting rebels seeking to overthrow his government.

"Of course definitely if they are genuine, if they have the will ... Not cooperation between a foreign government and any faction within Syria," he said.

Israel minister says Palestinian state over after Trump win

While Washington has provided significant support to the opposition, it has never matched the backing given to Assad by Russia and Iran. The rebels have seen US policy as a betrayal of their revolt, with Washington focusing mostly on the fight against IS in the last two years.

The Syrian president said winning the war was the only option he had with defeat bringing the end of his country.

"We can say, you can win the war only when you restore stability in Syria. You cannot talk about winning the war as long as there is killing and destruction on a daily basis," Assad said.

The war has shattered Syria into a patchwork of areas controlled by Assad's state, rebels battling to topple him, a powerful Kurdish militia, and Islamic State. Hundreds of thousands of people have died and the war has created the world's worst refugee crisis.
COMMENTS (1)
Comments are moderated and generally will be posted if they are on-topic and not abusive.
For more information, please see our Comments FAQ