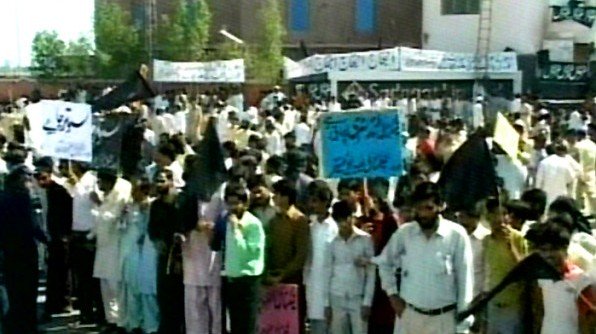 ---
FAISALABAD: Protestors set FESCO office on fire amid demonstrations against cotton yarn export and loadshedding in Faisalabad on Tuesday.

A countrywide strike was launched by 15 value added sector organisations including Pakistan Exporters Association and Hosiery Manufacturers Association. More than 10,000 textile factories were shut down in Faisalabad, Lahore and Multan in protest.

Protestors damaged several vehicles and broke the windows of several shops near Millat Chowk. They blocked the roads and announced further rallies from various parts of the city. They claimed that they have held 82 meetings with government officials including the prime minister but their demands remain unmet.

In anger, they also attacked the FESCO sub-division Hajiabad office, burning office records and torturing some FESCO employees.

Heavy police contingents were called in to control the situation.

Earlier, factory workers and owners demanded 25 percent regulatory duty on cotton yarn. Thousands of textile units are not operating while 800,000 workers are unemployed due to the unavailability of yarn.