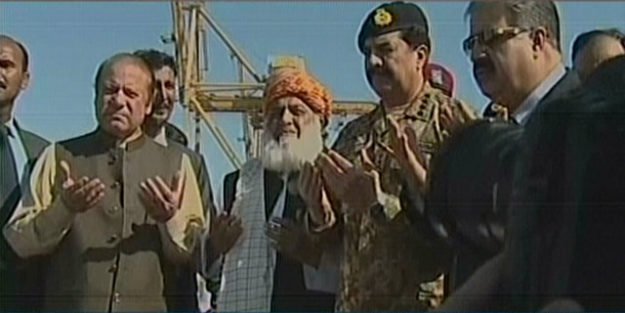 ---
Prime Minister Nawaz Sharif has termed the historic China-Pakistan Economic Corridor (CPEC) project "a world of opportunities," claiming the sharing of fruits of progress by the neighbouring countries can bring peace and harmony to the whole region.


#CPEC is a world of opportunities: PM Nawaz Sharif

— Government of Pakistan (@GovtofPakistan) November 13, 2016


"Efforts of the federal and provincial governments and the Pakistan Army have remained successful in making the people of Balochistan stakeholder in CPEC," the prime minister said while addressing the participants of the Trade Pilot Project ceremony in Gwadar. "Pakistan is located at the intersection of three engines of growth in Asia… the CPEC will interconnect these engines," he added.


I would like to thank COAS General Raheel Sharif for his support and personal interest towards #CPEC: PM Nawaz

— Government of Pakistan (@GovtofPakistan) November 13, 2016


Earlier today, PM Nawaz arrived in Gwadar to mark the historic launch of trade activity at the world's largest deep sea port.

At the start of the ceremony, DG Frontier Works Organisation (FWO) Major General Muhammad Afzal briefed the participants of the gathering on the CPEC. Balochistan Chief Minister Nawab Sanaullah Khan Zehri, Chinese Ambassador to Pakistan Sun Weidong and others also addressed the participants.


Gwadar:1st mega trade convoy containers arrived frm China.Will be further loaded on ships.PM&COAS will arrive shortly for the historic event

— Gen(R) Asim Saleem Bajwa (@AsimBajwaISPR) November 13, 2016
Today is a milestone in Gwadar & Pak glorious destiny
Gwadar is functional for years, but today is beginning of fulfilment of its potential

— Engr. Khurram Dastgir-Khan (@kdastgirkhan) November 13, 2016
Today a historic day as PM sees off 1st cargo ship from #GwadarPort which carries goods transported through #CPEC land route via #Khunjerab pic.twitter.com/XmPi86pNJb

— Danyal Gilani (@DanyalGilani) November 13, 2016


Further, the country's top political and military leadership, including Chief of Army Staff (COAS) General Raheel Sharif, Balochistan Governor Muhammad Khan Achakzai, CM Zehri and Islamabad-based ambassadors of several countries will also attend the event.

Gwadar Port to begin trade activities today


A moment of pride for all of us for Pakistan 🇵🇰 #GwadarByBrandNawazSharif pic.twitter.com/Q26nA2zmJT

— PML(N) (@pmln_org) November 13, 2016
PM opens Pakistan to the world and welcomes a new era of economic prosperity through the launch of first global trade convoy

— Marriyum Aurangzeb (@Marriyum_A) November 13, 2016
#CPEC dreams come true as first Chinese trade convoy reaches #Gwadar

— Government of Pakistan (@GovtofPakistan) November 13, 2016
First mega trade cargo convoy to depart from #GwadarPort for next destination today #CPEC

— Government of Pakistan (@GovtofPakistan) November 13, 2016


Strict security measures have been taken to ensure the smooth inauguration of exports through the Gwadar port. Earlier today, the first Chinese trade convoy arrived at the port through CPEC as contingents of special security division of the Pakistan Army provided security to the convoy. Starting its journey from Kashghar, the Chinese trade cargo reached Gwadar safely from Gilgit-Baltistan after travelling throughout the country.




The government has already allocated land for Gwadar Free Trade Zone and the government has also announced concessions for Gwadar Port and Free Trade Zone in Balochistan. Moreover, the projects of Exclusive Industrial Park Processing Zone and Mineral Economic Zone are also being executed on priority basis.

A project worth Rs 25 billion is being executed for the development of Gwadar city keeping in view its importance. The federal government gave a free hand to the provincial government in that regard that designed the project considering Gwadar's basic needs.

The federal government provided all resources for the installation of a plant to make the sea water drinkable, besides launching an additional Rs11.5 billion project for clean drinking water to Gwadar during 2015-16. The quality of underground water is also being improved and the existing 50-bed hospital is being upgraded to 300-bed facility.

First Chinese trade convoy arrives in Gwadar through CPEC

A university and a technical and vocational training institute are also being set up in Gwadar to produce required manpower. The locals will be preferred for enrollment in these institutes.

Under CPEC, the government has prioritized energy and road infrastructure. To meet the electricity needs, a 300-megawatt power plant is being installed in Gwadar that will also be linked to national grid.

A Special Security Force has been raised to provide a security cover to the Chinese investors. Gwadar is also being made a safe city too boost investors' confidence.

The construction of a new international airport is also under way in Gwadar to facilitate the movement of investors. Moreover, Gwadar city is also being connected with rest of the country through road and rail networks.