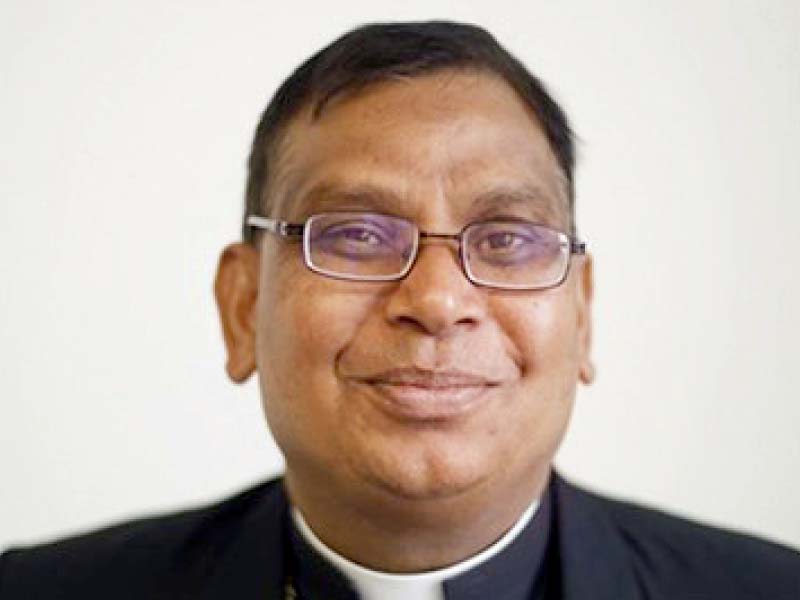 ---
RAWALPINDI: The Vatican Saturday named Bishop Joseph Arshad as the new Apostolic Administrator for the Diocese of Islamabad and Rawalpindi.

Bishop Arshad will be replacing Bishop Rufin Anthony who passed away last month.

"Pope Francis appointed Bishop Joseph Arshad, the present Bishop of Faisalabad, as also the Apostolic Administrator of Islamabad-Rawalpindi, under the supervision of the Holy See," read a statement from the Vatican.

Meanwhile, the church in Rawalpindi said that they have not yet received any official communication regarding Bishop Arshad's appointment.

A journeyed Bishop

The 52-year-old Bishop Arshad was born in Lahore. He received his early priestly education at St. Mary's Minor Seminary in the city before continuing his studies at Christ the King Seminary in Karachi.

He was finally ordained on November 1, 1991, and was appointed as the Parochial Vicar of St Joseph's Church and given the additional charge of St Peter's School in Gujranwala.

Later, he travelled to Rome in 1995 to pursue Canon Law studies at the Pontifical Urban University. There, he was trained as a Vatican diplomat at the Pontifical Ecclesiastical Academy.

He subsequently became one of the first Pakistani priests to join the Vatican's diplomatic service.

From 1999 to 2002 he served at the Apostolic Nunciature in Malta. Then till 2010 he served at the Apostolic Nunciatures in Sri Lanka, Bangladesh, and Madagascar.

The Vatican's statement described Bishob Arshad as having "rich experience of working in the Vatican's diplomatic service."

It added that he had held important positions in Malta, Sri Lanka, Bangladesh, Madagascar and Bosnia-Herzegovina.

Pope Francis on July 3, 2013 appointed Arshad as the bishop of the
Faisalabad Diocese.

It was Bishop Arshad who had in fact led the funeral prayers of Bishop Anthony who died on October 17.

Bishop Anthony was ordained as a priest in 1969, and was ordained as a bishop in 2009. He became bishop for Islamabad-Rawalpindi in 2010.

Father Hilary of Sacred Heart Catholic Church in Westridge, said he has known the Bishop since 2012 and found him to be very humble person , full of spirit for public service.

WITH ADDITIONAL INPUT FROM OUR CORRESPONDENT IN FAISALABAD

Published in The Express Tribune, November 13th, 2016.
COMMENTS
Comments are moderated and generally will be posted if they are on-topic and not abusive.
For more information, please see our Comments FAQ