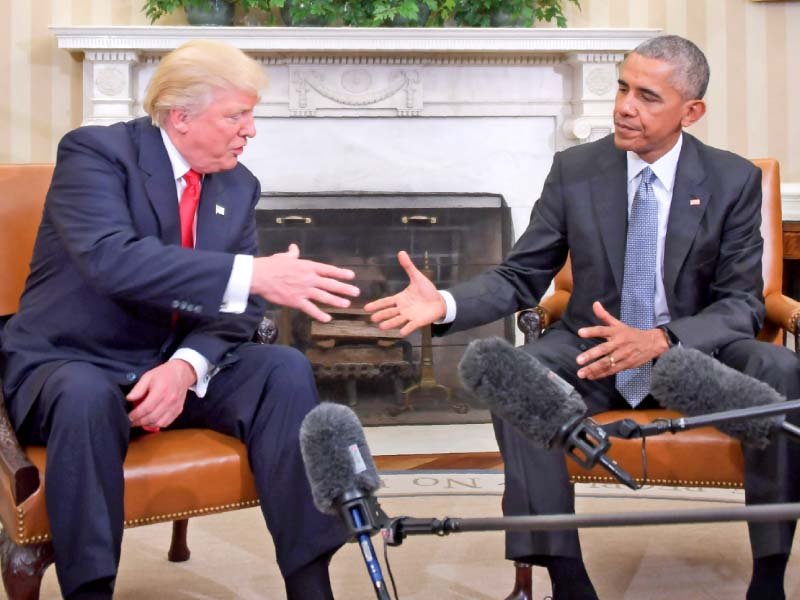 ---
WASHINGTON: President-elect Donald Trump held a 90-minute meeting on Thursday with US President Barack Obama in the White House to discuss the transition of power after the Republican's stunning election victory.

Sitting next to the Democratic president in the Oval Office, Trump told reporters: "We really discussed a lot of situations, some wonderful, some difficulties." He said Obama explained "some of the great things that have been achieved," but did not elaborate.

Trump, elected on Tuesday to his first public office, said he looked forward to more meetings with Obama. He noted it was the first time the two met face-to-face, and the White House said the meeting occurred with no staff present.

Thousands take to streets of US cities to protest Trump victory

Obama offered to do everything he can to help the New York businessman succeed when he takes office on January 20 and urged the country to unite to face its challenges. "We now are going to want to do everything we can to help you succeed because if you succeed, then the country succeeds," Obama said at the end of the meeting.

The relaxed, cordial demeanour between Obama and Trump in front of the cameras was in stark contrast to the months of harsh rhetoric that came from both during a bitter election campaign.

Trump used Obama as a punching bag during his campaign speeches, repeatedly calling the president's policies – from healthcare to an Iran nuclear deal - a 'disaster'. For his part, Obama and first lady Michelle Obama attacked Trump as being unfit to hold the office of president.

But immediately following Trump's unexpected election victory over Democratic rival Hillary Clinton, the tone changed. On Wednesday, Obama said that despite his major differences with Trump, he would follow the lead of former Republican President George W Bush in 2008 and ensure a smooth handover to Trump.

In a possible pivot by Trump, controversial campaign proposals, including his call to ban Muslims from entering the United States, have been removed from the president-elect's campaign website. As the current president and next president huddled, White House chief of staff Denis McDonough was seen walking near the Rose Garden with Trump's son-in-law Jared Kushner, who like Trump is also a real estate developer, and other aides.

'Not our president'

Demonstrators marched in cities across the United States to protest against Trump's surprise presidential election win, blasting his campaign rhetoric about immigrants, Muslims and other groups.

In New York, thousands filled streets in midtown Manhattan as they made their way to Trump Tower, Trump's gilded home on Fifth Avenue. Hundreds of others gathered at a Manhattan park and shouted "Not my president."

In Los Angeles, protesters sat on the 110 and 101 highway interchange, blocking traffic on one of the city's main arteries as police in riot gear tried to clear them. Some 13 protesters were arrested, a local CBS affiliate reported. An earlier rally and march in Los Angeles drew more than 5,000 people, many of them high school and college students, local media reported.

A demonstration of more than 6,000 people blocked traffic in Oakland, California, police said. Protesters threw objects at police in riot gear, burned trash in the middle of an intersection, set off fireworks and smashed store front windows. Police responded by throwing chemical irritants at the protesters, according to a Reuters witness. Two officers were injured in Oakland and two police squad cars were damaged, Johnna Watson, spokeswoman for the Oakland Police Department told CNN.

In downtown Chicago, an estimated 1,800 people gathered outside the Trump International Hotel and Tower, chanting phrases like "No Trump! No KKK! No racist USA." Chicago police closed roads in the area, impeding the demonstrators' path. There were no immediate reports of arrests or violence there.

"I'm just really terrified about what is happening in this country," said 22-year-old Adriana Rizzo in Chicago, who was holding a sign that read: "Enjoy your rights while you can."

In Seattle, police responded to a shooting with multiple victims near the scene of anti-Trump protests. Police said it was unrelated to the demonstrations.

Pakistanis can't seem to get over Trump's stunning upset

Protesters railed against Trump's campaign pledge to build a wall along the border with Mexico to keep immigrants from entering the United States illegally.

Hundreds also gathered in Philadelphia, Boston and Portland, Oregon, on Wednesday evening. In Austin, the Texas capital, about 400 people marched through the streets, police said.

A representative of the Trump campaign did not respond immediately to requests for comment on the protests.

Published in The Express Tribune, November 11th, 2016.
COMMENTS
Comments are moderated and generally will be posted if they are on-topic and not abusive.
For more information, please see our Comments FAQ