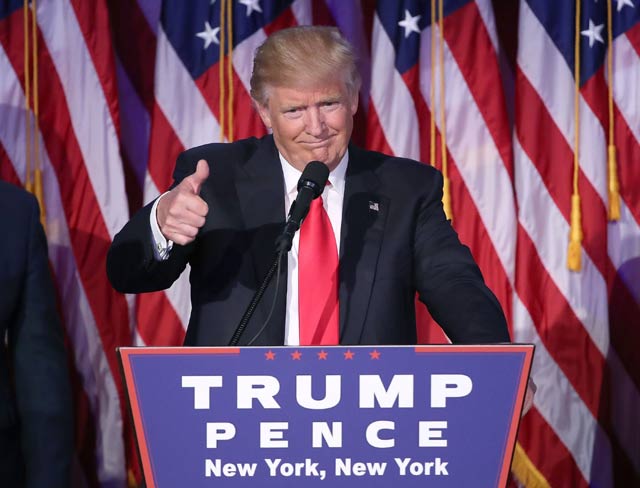 ---
ISLAMABAD: Here you have it! As unreal as it sounds, Donald J Trump is the next president of the United States of America.

While the world still reels from quite possibly the most shocking election result in US history, the key concern for Pakistan is what Trump's unexpected victory means for the country.

There are no easy answers. The reason is that Trump has dropped no clear hint on his possible foreign policy, let alone on Pakistan, during the bruising election campaign.

Trump clinches a win no one saw coming

Second, the element of unpredictability that the president-elect brings with him has cut out the work of Pakistani policymakers to come up with a prudent strategy.

[poll id="1510"]

Prime Minister Nawaz Sharif wasted no time in sending a felicitation message to Trump for his victory in the hope that the two countries would work together to improve their relations under his presidency.

But his felicitation message aside, strategic and foreign policy experts have a word of caution for the government. At the same time, however, they see an opportunity for Pakistan in this changing scenario.

"Pakistan will have to wait and see," said defence analyst Lt-Gen (retd) Talat Masood, who like the rest of the world did not expect Trump to win.  Although there will be no 'fundamental' change in the US policy towards Pakistan, the Trump administration may be more assertive, he said. "He [Trump] will be more demanding….he may put more pressure on Pakistan when it comes to the war on terror."

Historically, Pakistan-US relations have been security driven. Their current engagement is also primarily linked to the situation in neighbouring Afghanistan. Despite being allies, their cooperation has often been marred by misgivings and trust deficit.

Five shot in downtown Seattle near scene of anti-Trump protests

The main stumbling block over the years has been the concern in the US administration that Pakistan was not doing enough to deal with certain militant groups.

Islamabad, however, has its own complaints against Washington. The main concern is that there is lack of acknowledgement of its sacrifices in the fight against terrorism.

Of late Pakistan is also increasingly upset over the United States indifferent approach to its 'strategic grievances' in the region especially vis-à-vis India.

"That situation may change now since Trump will not operate under such ambiguity," commented Dr Ishtiaq Ahmed, who teaches international relations at the Quid-e-Azam University. The US, under Trump, will follow more 'transparent approach' towards Pakistan. This means, according to Dr Ishtiaq, there will be no more 'gray areas' in the US dealings with Pakistan.

Contrary to the prevailing perception, for Dr Ishtiaq the victory of Trump may not be a bad thing for Pakistan. "In fact it's a blessing in disguise," he added explaining that the Trump administration would do 'straight talk and expect the same from Pakistan.'

Interaction with senior foreign office and security officials suggested that Islamabad may not be that pessimistic about the Trump's victory.

"I look at it a differently. There may be surprises but they could be positive ones," a senior official in the Foreign Office remarked when asked to comment on the possible fallout of Trump's victory on Pak-US ties.

The official, who spoke on condition of anonymity, told The Express Tribune that Trump's administration may be less intrusive given his priority areas would be domestic issues.

Karachiites experience excitement of US Election Day

While what policy Trump would have ultimately on Pakistan and the region unfolds in a due course, there is consensus among the government officials, foreign policymakers and independent experts that 'divorce' is not an option for either country.

Published in The Express Tribune, November 10th, 2016.
COMMENTS (12)
Comments are moderated and generally will be posted if they are on-topic and not abusive.
For more information, please see our Comments FAQ