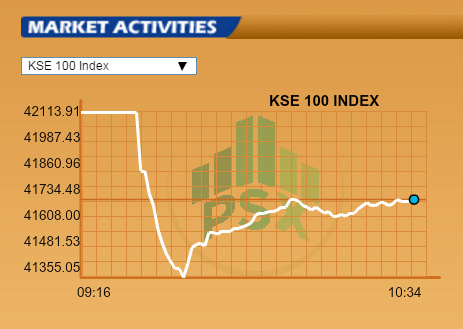 ---
Pakistan equities slumped as Republican candidate Donald Trump appeared to be edging ahead of his competitor, Hillary Clinton, with the benchmark KSE-100 Index plunging as much as 761 points or 1.8% in early-morning trading.

Trump, widely perceived as a negative for markets with policies many fear would wreck the world's top economy, led the race with a 240-209 lead to 270 electoral votes.

The KSE-100 Index, however, recovered almost half its losses, but was still down 428 points, or 1.02% at 10:30am.

Index ends slightly negative as US election looms

Meanwhile, in the world markets, safe haven assets rallied as investors went running for cover, with the yen and gold rushing higher. Initial confidence that market favourite Hillary Clinton would win the knife-edge race was wiped out as the firebrand tycoon managed to win the crucial state of Florida. Clinton is considered by many investors to be a safer bet than Trump, who is seen as a loose cannon with policies many fear could wreck the world's top economy.

Tokyo ended the morning session 2.2 per cent down, having been up more than one per cent at one point, while Hong fell 2.1 per cent and Shanghai sank one per cent. Sydney gave up 1.7 per cent, Seoul shed 1.7 per cent and Singapore dived 1.4 per cent. There were also losses of more than one per cent for Taipei and Jakarta. Futures on the Dow on Wall Street plunged 2.6 per cent.

Markets in free fall as Trump moves into lead

The Mexican peso — which was battered by Trump's anti-immigrant rhetoric earlier in the campaign — tumbled towards record lows against the dollar. The greenback at one point hit 19.8619 pesos up almost 10 per cent from its earlier low and close to its record of 19.93 pesos. The peso is considered a proxy of Trump's chances because of his anti-Mexican rhetoric — including his pledge to remove undocumented immigrants, build a border wall and tear up a trade deal.

However the dollar tumbled against the yen as investors rushed into the Japanese unit, which is considered a safe bet in times of uncertainty and turmoil. The greenback was at 102.40 yen, down from above 105 Tuesday. The euro also rose one per cent against the dollar, while gold soared 1.6 per cent to $1,305. Oil prices plunged, with WTI sinking 3.3 per cent and Brent 2.8 per cent lower.