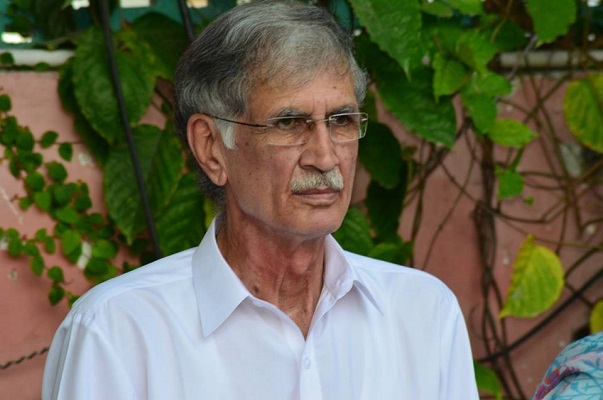 ---
PESHAWAR: In a tit-for-tat move, the centre and Khyber-Pakhtunkhwa governments have separately announced lodging cases against top functionaries over the 'locking down' of Islamabad that was averted only after the Supreme Court stepped in.

The first salvo was fired by Adviser to the prime minister Amir Muqam who hinted at lodging a case against K-P Chief Minister Pervaiz Khattak for pitching law-enforcement agencies against those under the central government with the intention to attack the federation.

But he said this would be done after consulting all political parties. The latest development came after police in Punjab registered FIRs, nominating the functionaries of the K-P government and PTI workers for trying to "lock down" the federal capital.

"This needs to be discussed in parliament and we will also consult other political parties since this is a national issue," Amir Muqam said while addressing a press conference at the Peshawar press club on Sunday.

Muqam said the federal government was under pressure to file a case against the K-P chief minister because "he wanted to attack the federation with the intention to destabilise it".

"What did they want?"

"Bloodshed?" Maqam asked, adding, "I congratulate all those who repulsed the few who wanted to attack the federal capital and am thankful to K-P residents who refused to move towards the capital."

The K-P government on its part announced lodging a case against Interior Minister Chaudhry Nisar Ali Khan and Inspector General of Punjab Police Mushtaq Ahmed Sukhera for torturing PTI workers.

The Punjab police have registered two FIRs, one at the Hazro police station and another at the Hasan Abdal police station, over clashes between the police and PTI activists on the Islamabad-Peshawar Motorway on October 31.

On the other hand, Hasan Abdal police station's FIR nominated PTI workers and three people arrested on the spot. However, it does not carry names of PTI leaders, workers or officials of the K-P government.

In reaction to the FIRs, the K-P government spokesperson Mushtaq Ghani said they are consulting legal experts and will register FIR against Interior Minister Chaudhry Nisar Ali Khan and IG Punjab Sukhera.

"Under which law was the rally stopped and attacked?" he asked. "The chief minister of K-P was with the rally and they (protesters) were all unarmed and peaceful, but shells were fired at us in our own province," Ghani said.

"Our chief minister was attacked in our own province. When the chief minister got out of his vehicle, shells were fired deliberately at his vehicle. It was an attempt to assassinate our chief minister."

Ghani also said that they will go to court and refuted the charges

Published in The Express Tribune, November 7th, 2016.
COMMENTS
Comments are moderated and generally will be posted if they are on-topic and not abusive.
For more information, please see our Comments FAQ