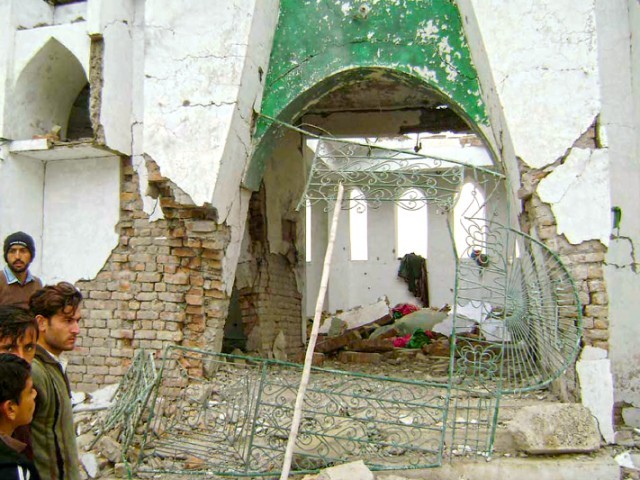 ---
HARIPUR: Unidentified miscreants set another shrine of a sufi saint on fire in Kot Najibullah, police said on Saturday.

Akhonzada Haji Muhammad Sadiq, the son of Akhoon Baba, told police that a shrine had been built for his father a few decades ago in Panian village and people used to visit it to offer prayers.

On Friday evening, Sadiq said he was home when someone informed him that the shrine had been set on fire. When he reached the spot, he found the sacred covering (Chadder) of the shrine and some copies of the Holy Quran on fire.

With no fire brigade in the area, Sadiq said he, with the help of some locals, managed to extinguish the fire. However, they could not save the copies of the Holy Quran and some other Islamic books that had been kept at the shrine for recitation.

Sadiq subsequently filed a complaint with the Kot Najibullah police who registered a case against unidentified miscreants, including for wilfully defiling, damaging or desecrating a copy of the Holy Quran (Section 295-B of the Pakistan Penal Code). Police, however, have yet to apprehend the culprits.

Following the incident, locals took out a protest procession and termed the arson a conspiracy to stoke sectarian tension in Haripur. They demanded that the culprits should be brought to book.

This is the second such attack on a shrine in the area. Earlier on October 27, arsonists had set the shrine of Pir Sahib Ghazi in Muhallah Katha of Kot Najibullah on fire in a similar fashion.

The police had also registered a case against unidentified culprits under section 295-B of the PPC but have yet to make any arrests.

Meanwhile the members of Ahl-e-Sunnat Rabita Committee in Haripur held an emergency meeting to discuss the arson attack.

The committee's members, including Raja Shamim Anwar Awaisi, Mufti Muhammad Umar, Sahibzada Qazi Mehboob, Pir Shafiq ur Rehman, condemned the arson attacks, describing it as sacrilege and a planned act aiming to drive a wedge between people of different sects in Haripur.

Deploring police lethargy in arresting the culprits, they were of the view that had the suspects of the first incident been caught, the second incident may not have happened.

They also expressed their concern over lack of security at shrines and traditional role of police. They demanded complete security of shrines across the district and immediate arrest of the accused.

Published in The Express Tribune, November 6th, 2016.
COMMENTS
Comments are moderated and generally will be posted if they are on-topic and not abusive.
For more information, please see our Comments FAQ