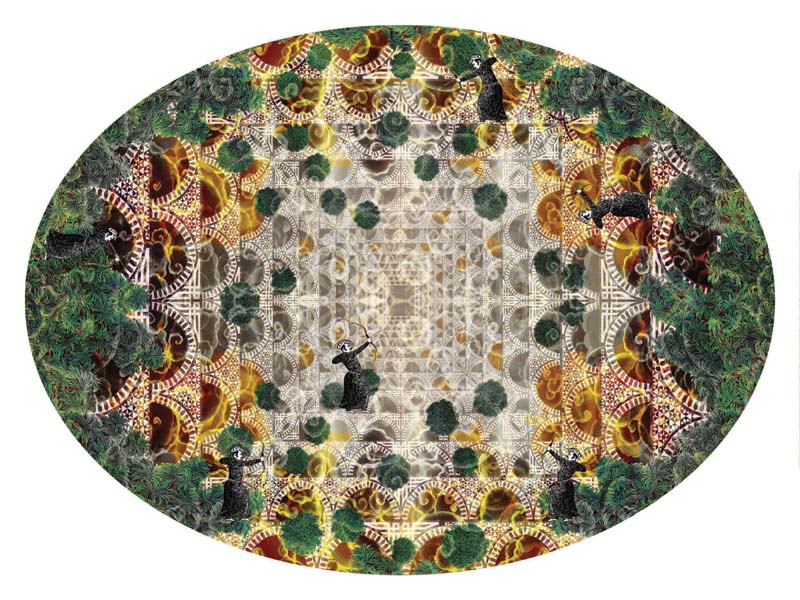 ---
KARACHI: Artist Muhammad Atif Khan's latest exhibition, titled 'Gardenscape', incorporates elements of storytelling to take viewers on a ride of a world where reality meets surreal.

Talking about his exhibition showcased at Sanat Gallery, Khan remarked "It brings forth the story of the Persian gardens with elements of Islamic heritage. The garden may offer symbolic peace but [the] entire environment is far from tranquil."




He uses the image of a garden to depict the disorder. "The entire environment [of the garden] is not peaceful, many questions are raised that need to be answered." Explaining the concept, he said "It requires the viewers to understand the various narratives [depicted in the artwork]." He adds, "It's not by force but I want my viewers to be free from the burden of reality and sail into the motion of imagination. It might lead to some kind of nostalgia."

Using archival inkjet print on Hahnemühle paper, Khan depicts images of figures from Mughal era, warrior princess, kites and fish to showcase the disorder in the garden. "I have tried injecting my thoughts on art and art history on the marvels inspired by Islamic art history," he said. "The crafts may be inspired but the designs are my own."




Currently working as a faculty member at National College of Arts, Lahore, Khan graduated from the same university in 1997.

Last year, he won the Lahore Biennale Foundation's Open Call competition and developed a site-specific installation 'City within a city' at the Chowk Istanbul in Lahore, Pakistan.

"Khan is well-known for his sculptures globally but his expertise lies in printmaking," said Sanat Gallery owner Abid Merchant. "[His] images are viewer-friendly and he has touched on socially relevant messages via these images."

The show continues till November 10.

Published in The Express Tribune, November 5th, 2016.
COMMENTS
Comments are moderated and generally will be posted if they are on-topic and not abusive.
For more information, please see our Comments FAQ