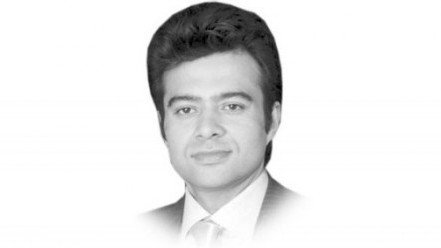 ---
On my show on April 30 Senator Faisal Raza Abidi dropped a bombshell when he quoted two books written by the Chief Justice of the Lahore High Court Khawaja Muhammad Sharif who had written that during a visit to London in 2006 he dined with Shahbaz Sharif who gave gifts to his two sons. Going through the various accounts in the books, keeping in view the judges code of conduct, one is left speechless.

On pages 128-129 of the book Kuch Ranaiyan — Safarnama Bartania aur France (ISBN 969-503-513-2), the judge wrote:

"My sons and I were waiting for Mian Shahbaz Sharif at Dorchester Hotel in London when he called to inform us that he will be late by 15 minutes. We had food together...We exchanged different views as we sat on the table…And Shahbaz Sharif gave one packet each to my sons, which he said was a gift."

According to the book, on page 112, another dinner was hosted for Justice Sharif by Mian Shahbaz Sharif at 60 Duke Road and on page 113 there are photographs of him with the Sharif brothers.

The other book is called Shakh-e-Nazak ke Aashiane – Safarnama, Philpaine, Malaysia aur Inglistan (ISBN 969-503-356-3), written by him prior to becoming a judge of the Lahore High Court, during the second term of Nawaz Sharif. It explains on pages 62 and 63 the emotional ties between him and Shahbaz Sharif when he was invited to his apartment at Oxford Street in London:

"During lunch he picked the best pieces of meat and put them in my plate... He gave me so much respect and even gave me a box of sweets before I left. He walked me out himself and said if I needed anything at all, including money, I should ask him. I couldn't have even thought of such love and respect. I pray to Allah that his sanctity should always prevail. Amen."

I don't know what the exact lines of Pakistan's code of conduct are for judges but can quote a few observations.

Pakistan's first chief justice refused to meet Liaquat Ali Khan since it was a violation of the judges code of conduct. Former Chief Justice of Lahore High Court Maulvi Mushtaq Hussain, though a controversial judge, refused to comment upon his judgement on Z A Bhutto's trial. Former Chief Justice of Pakistan Saeeduzzaman Siddiqui banned all sort of social gatherings for judges.

In the western jury system, judges as well as members of the jury do not read newspapers during the hearing of the case. I, as an academic, understand the importance of social isolation. I do not have the luxury to be friends with my students or to receive gifts from them. It could create a soft corner or jeopardise merit.

The facts told in his two books allows political rivals of PML-N, like Senator Faisal Raza Abidi, to argue that the judgments of the chief justice would remain under the spell and obligation of his hospitable host in London, who now happens to be the chief minister of Punjab. Though it may be an allegation, why is a judge as honourable as the chief justice of Lahore high court having extrajudicial meetings that would let others point fingers against him? And why is the chief minister of Punjab offering him dinner and presenting his sons with gifts?

The nation may rightly highlight these contradictions and ask the judges that they should first follow the rule of law themselves and then ask other to respect it. The people of Pakistan who, for the sake of justice, restored 'them', are also quite capable of removing 'them' for the pursuit of the same cause — justice.

Published in the Express Tribune, May 11th, 2010.