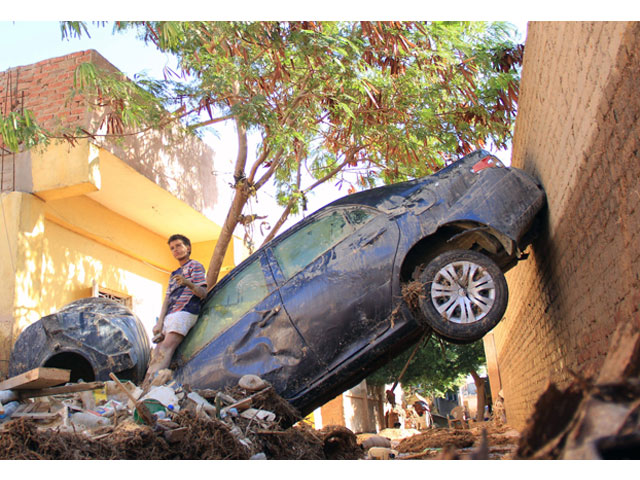 ---
CAIRO: At least 22 people were killed and 72 injured in flooding caused by torrential rains in Egypt, authorities said on Sunday, updating an earlier toll of 18 dead.

Health ministry spokesperson Khaled Megahed said the death toll could rise as some families may not have reported the loss of relatives who have already been buried since the flooding began on Thursday.

On Saturday, the government announced 50 million pounds ($5.6 million/five million euros) in aid for flood-hit areas which include the southern province of Sohag, South Sinai and along the Red Sea coast.

The Al-Masry Al-Youm and Al-Watan newspapers said residents in Ras Gharib angry at the government response on Saturday blocked a convoy transporting Prime Minister Sharif Ismail.

Ras Gharib, in the Gulf of Suez, was the worst hit area with nine people reported killed.

Hostilities against Pakistan: India blocks UN funds for glacial flood project

But a health official in the Red Sea province, where Ras Gharib is located, told AFP that the death toll has risen to 10, with 32 people injured.

The heavy rain and floodwaters damaged houses in the coastal town, where fast-flowing water surged through streets, stacking cars by the side of roads and in some cases leaving vehicles almost fully submerged.

Among those killed in the disaster were six people whose bus overturned on a flooded road in Sohag.

Almost every year, autumn and winter rains cause flooding in Egypt, especially in areas with poor infrastructure.

The country's worst flooding, in November 1994, led to the deaths of at least 270 people in the village of Darnaka in Assyut province.
COMMENTS
Comments are moderated and generally will be posted if they are on-topic and not abusive.
For more information, please see our Comments FAQ