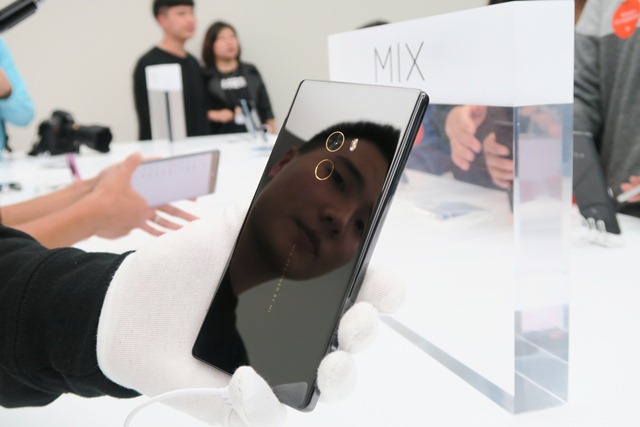 ---
Xiaomi's branding has always been about affordable quality. Cheap but decent specs – a phone for the masses. That's about to change with Xiaomi's huge and daring new phone, the Mi Mix.

"This is pretty much a handmade device," said Xiaomi's Hugo Barra at the company's launch event in Beijing today.

"It's a lot of new materials, a lot of new components that aren't available and that were actually custom made for us," he said while speaking to the media.




How Xiaomi installs apps without telling you

At US$516, the Mi Mix is far and away Xiaomi's most expensive phone – and it's not hard to see why. The phone is wrapped in glossy, black ceramic, and is almost bezel-less with a 91.3 percent screen-to-body ratio. At 6.4 inches, the screen is the size of the giant Xiaomi Max and the Lenovo Phab 2 Pro – except the screen covers almost the entire surface of the phone, leaving just a tiny strip at the bottom.

Unfortunately, that means that the front camera is aimed upwards toward your chin instead of at your face. You can flip the phone upside down – the screen flips with it – but it's an awkward motion and clearly a compromise for the large screen. Not good news for selfie enthusiasts. The corners of the Mi Mix's screen are also curved, reminiscent of a Sharp prototype from 2014.




Inside, the Mi Mix has all the trimmings of a high-end phone – and then some: a 16MP PDAF rear camera, a whopping 4400mAh battery, a Qualcomm Snapdragon 821 processor, and up to 256GB of storage.

There are also two new pieces of technology inside the Mi Mix. The phone uses something called piezoelectric ceramic acoustic technology – different from bone conduction – which lets users listen to calls without an earpiece speaker. It also has an ultrasonic proximity sensor behind its display instead of a front-facing infrared proximity sensor.

Xiaomi owes Mi Mix's full ceramic body and minimalist look to renowned French designer Philippe Starck, who set the design direction of the phone. One of Starck's other famous design projects is the Venus, Steve Jobs' private yacht.




By now, it's almost an automatic reflex to see Xiaomi through the lens of Apple, or at least do a quick comparison of the two. In previous phones, Xiaomi always seemed to be just under the shadow of the American tech giant, pumping out products that resembled the iPhone but at a more palatable price.

How Xiaomi can win in the US (hint: it's not with phones)

This time, however, Mi Mix has enough tricks of its own.




"Mix is a phone for our hardcore fans. That's the way to look at it," said Hugo. "It's like the guy who has the Mi 1 in his home somewhere." That was Xiaomi's debut phone back in 2011.

As a concept phone, supplies of the Mi Mix will be very limited. However, the exact number of units that will be sold was not disclosed. Sales will start on November 4 via flash sale to consumers in China.




According to Hugo, the Mi Mix is an experimental phone for the company, albeit one with commercial intentions. That probably means that Xiaomi's brand will still be centered around more affordable phones.

What happened to Xiaomi?

However, in the future – "who knows, maybe next year, the year after that" – the company plans to take some of the Mix's fancy features, such as the piezoelectric ceramic acoustic technology, and bring them to its US$300-ish phones.


This article originally appeared on Tech in Asia.
COMMENTS
Comments are moderated and generally will be posted if they are on-topic and not abusive.
For more information, please see our Comments FAQ