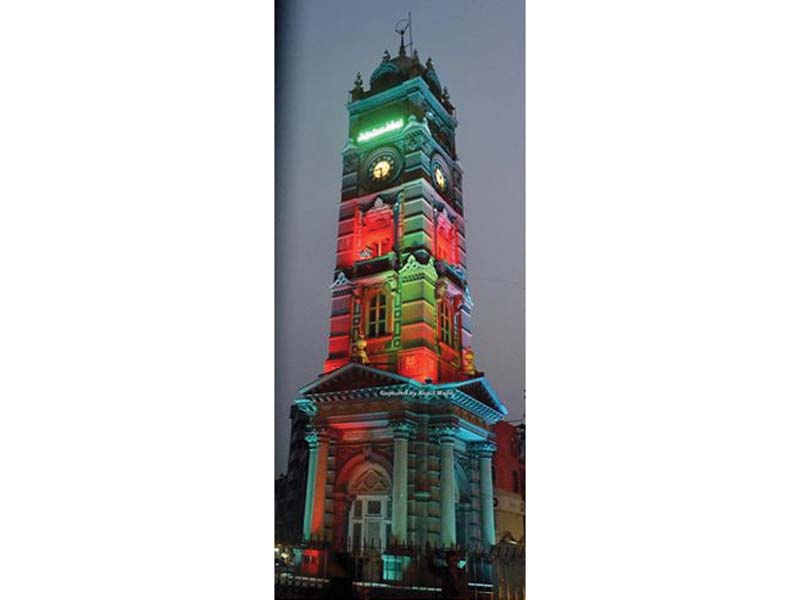 ---
FAISALABAD: The Clock Tower, popularly known as Ghanta Ghar, does not fail to fascinate anyone who visits Faisalabad. Apart from the rich culture and heritage preserved at the site, the myths woven around the British rule offer multiple narratives and accounts of the history of the place.

Quite like current times, the city itself has been the one force which all conquerors have sought to tame. The Ghanta Ghar has seen the dust settle and has re-emerged from fires with different plumage.

Situated in the centre of the old city, the foundation of the majestic Clock Tower was laid on November 14, 1903 by the British lieutenant governor of Punjab Sir Charles Riwaz. The fund was collected at a rate of Rs18 per square of land. The fund thus raised was handed over to the municipal committee which undertook to complete the project.

Construction and significance

The historical structure is placed at the centre of eight markets  and can be seen from different directions, including Amin Pur Bazaar, Chiniot Bazaar, Katchery Bazaar, Rail Bazaar, Karkhana Bazaar, Montgomery Bazaar, Jhang Bazaar and Bhowana Bazaar that looks like the Union Jack flag of the United Kingdom which was designed by an architect Desmond Yong.

Each Bazaar has its own identity and significance due to the Ghanta Ghar.  The decision on its construction was taken by then Jhang deputy commissioner Capt Sir James Lyall.

The famous Clock Tower was built on a well. The well, which existed at the exact location of the Clock Tower, was filled with earth brought from the farms of Chak Ram Dewali.

Red sand stone was obtained from Sangla Hill. Expert sculptors which included one Gulab Khan who belonged to the family who built Taj Mahal in Agra (India), installed big blocks of red sand stone after proper dressing and sizing them.

Expert carpenters were also involved in the construction and beautification of the tower. Big wooden planks were installed without being saw-cut into nets and fixed in the doors and windows of the tower.

The clock for the tower was brought from Mumbai. It is believed that the clock tower was built in the memory of Queen Victoria. The work was completed in December 1906 and the whole construction cost was Rs40,000.

Later, the then Punjab financial commissioner Sir Lion Toper performed the formal inauguration of the Clock Tower in the presence of hundreds of citizens of Lyallpur.

Awaiting preservation

Although the Clock Tower is in good shape and does not require repairs from outside even after the passage of 100 years, its interior needs immediate attention and renovation.

At the time of its construction, fountains had been installed in front of four bazaars – Aminpur Bazaar, Katchery Bazaar, Karkhana Bazaar and Jhang Bazaar – which were visible from all the eight bazaars. However, two of the fountains have now disappeared.

The plaster of the Clock Tower has started decaying and cracks have appeared on stairs and outer pillars. The railing has been broken and roof has become the shelter for birds.

Pedestals inside the tower are in bad shape. Moreover, fading stones, crumbling base-pad and dust all around the tower has disappointed the visitors, who travel from far-flung areas to have a glimpse of the British marvel.

Interesting facts



Ghanta Ghar provides a platform for political activities as all parties prefer to hold demonstrations in front of it.


The district administration use the spot for dissemination of various measures and announcements.


Different mandirs, gurdwaras, churches and mosques are situated around Ghanta Ghar reflecting harmony of inter-religious communities.


During General Ayub's era, it attained fame as late Justice Malik Rustam Kayani referred Ayub Khan's powers under 1962 Constitution as Ghanta Ghar. Similarly, all the political parties always refer Ghanta Ghar as a symbol of 'dictatorial rule.


The Clock Tower is a place that serves as a source of living for daily wagers.


Published in The Express Tribune, October 27th, 2016.
COMMENTS (1)
Comments are moderated and generally will be posted if they are on-topic and not abusive.
For more information, please see our Comments FAQ