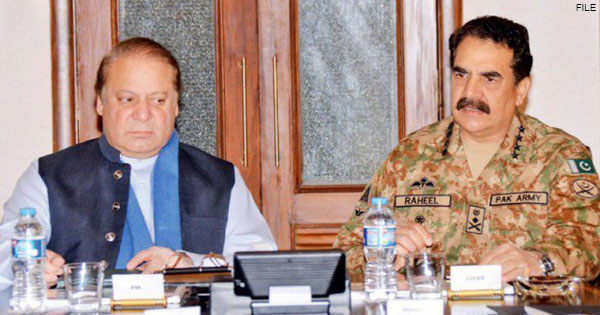 ---
ISLAMABAD: Prime Minister Nawaz Sharif and Chief of Army Staff (COAS) General Raheel Sharif attended on Tuesday a high-level meeting on security at the Governor House in Quetta.

The premier and the army chief reached the capital city of Balochistan, a day after militants attacked the police training college.

The premier, who cancelled all his scheduled appointments for Tuesday, was accompanied by National Security Adviser Lt-Gen (retd) Nasser Khan Janjua and Interior Minister Chaudhry Nisar Ali Khan.

Balochistan Chief Minister Nawab Sanaullah Zehri, provincial Home Minister Sarfaraz Bugti and other provincial ministers received the prime minister at the Quetta Airport.



60 killed, at least 165 injured as militants storm police training centre in Quetta

Meanwhile, Gen Raheel was accompanied with DG ISI Lt-Gen Rizwan Akhtar and DG MI Major General Nadeem Zaki Manj, he visited the police training college where he met police officials, army and Frontier Corps troops who carried out the operation last night to clear the area and eliminate the attackers.

The COAS appreciated the morale, courage and determination of security personnel for preventing further damage and saving several lives.

The army chief along with Balochistan Chief Minister Nawab Sanaullah Zehri, among others, also attended the funeral prayers of those killed in the attack.




Army chief announces gallantry awards for soldiers killed during Quetta attack: ISPR

During his visit to Quetta, General Raheel announced gallantry awards for Captain Roohullah Shaheed and Naib Subedar Muhammad Ali for their valiant action during the anti-terror operations at Police Training College Monday night. Captain Roohullah was killed in the operation, while Muhammad Ali sustained injuries.






Having neutralised one suicide bomber, the two cornered the second bomber, helping large number of police recruits escape till the attacker exploded himself. Captain Roohallah has been awarded Tamgha-e-Jurat, while Naib Subedar Ali Tamgha-e-Basalat.




Three terrorists on late Monday night, entered the New Sariab Police Training College, some 13 kilometres away from Quetta city. They headed straight for the hostel where police recruits were sleeping.

Balochistan Home Minister Mir Sarfaraz Ahmed Bugti told reporters assembled at the site early Tuesday that the sprawling compound had been attacked by three militants equipped with suicide jackets, revising down an earlier estimate of "five to six" assailants.

Timeline of deadliest insurgent attacks in Pakistan

"They first targeted the watch tower sentry, and after exchanging fire killed him and were able to enter the academy grounds," he said. "At least 20 were killed but this figure isn't final - we'll confirm it in the morning," he said.

Major General Sher Afgan, chief of the paramilitary Frontier Corps in Balochistan, which led the counter-operation, said "the attack was over in around three hours after we arrived."

He added that the militants belonged to the Al-Alimi faction of the Lashkar-e-Jhangvi militant group - which is affiliated with the Pakistani Taliban. "They were in communication with operatives in Afghanistan," he said. The group itself has not claimed the attack.