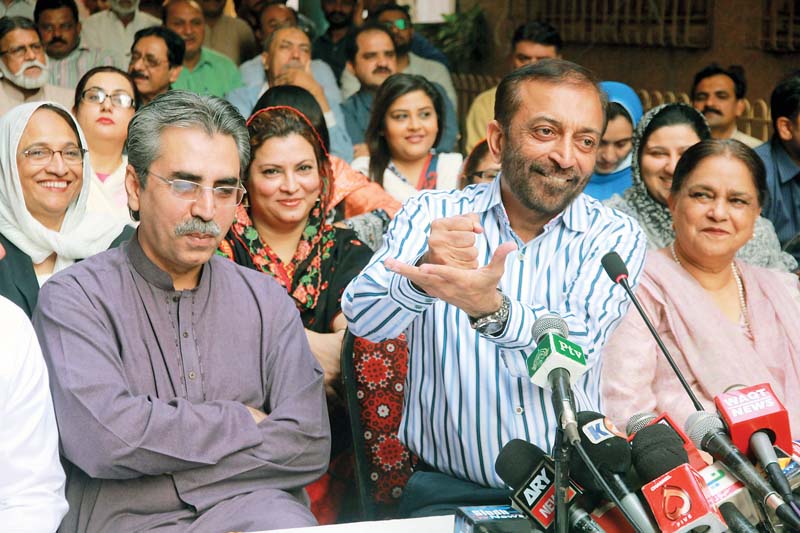 ---
Muttahida Qaumi Movement (MQM) - Pakistan head Farooq Sattar has claimed that his party's elected representatives have been threatened by people associated with the party's London leadership for not resigning from the national and provincial assemblies.

At a press conference on Sunday at MQM-Pakistan's makeshift headquarters, Sattar said that the party was adhering to its August 23 policy but some elements were using criminal tactics to derail them.

Senior MQM London members cancel Farooq Sattar's party membership

"It is clear what those people think and vie for," he said. "We warn them to abstain from what they are doing. We haven't yet used the option of taking legal action."

The press conference was held a day after the Rangers took action against MQM-London and arrested three of its interim coordination committee members, Dr Hasan Zafar Arif, Amjadullah and former lawmaker Kunwar Khalid Yunus, preventing them from holding a media talk at the Karachi Press Club.




"There is only one MQM - MQM-Pakistan," said Sattar, who now claims to be the head of the party. "It is registered with the Election Commission of Pakistan under my name."

He asked MQM workers to not to be 'confused, disappointed or demoralised' by what happened during the August 22 speech of party founder Altaf Hussain on the sixth day of a hunger strike camp for the recovery of the party's jailed and missing workers.

MQM-London leaders detained for 30 days, sent to Karachi jail

Criticising the London leadership, he commented that some people wanted to push MQM and the Muhajir community into an abyss but the party will not let it happen.

Demands from government

The MQM-Pakistan head called on the federal and provincial governments and demanded that the party and its workers should not be judged in light of the August 22 speech.

"We should be recognised as equal Pakistanis and residents of Sindh," he said. "We have done our part by making unprecedented sacrifices. Now, it's the government's turn to play its part."

Sattar said that bodies like the Karachi Water and Sewerage Board and Sanitation Board should have been under the local government instead of the provincial government.

He said that administrative and financial problems were being created to hinder the work of the local government and demanded that Karachi and all other urban centres across the country be given their due share so that they can progress.

Going in public

Sattar announced that the party was starting an 'aggressive' public engagement campaign in a day or two to listen to the problems of common people and resolve them within the available resources. He said that their lawmakers and local bodies' representatives will conduct a door-to-door campaign and will arrange meetings on every street.

Published in The Express Tribune, October 24th, 2016.
COMMENTS
Comments are moderated and generally will be posted if they are on-topic and not abusive.
For more information, please see our Comments FAQ