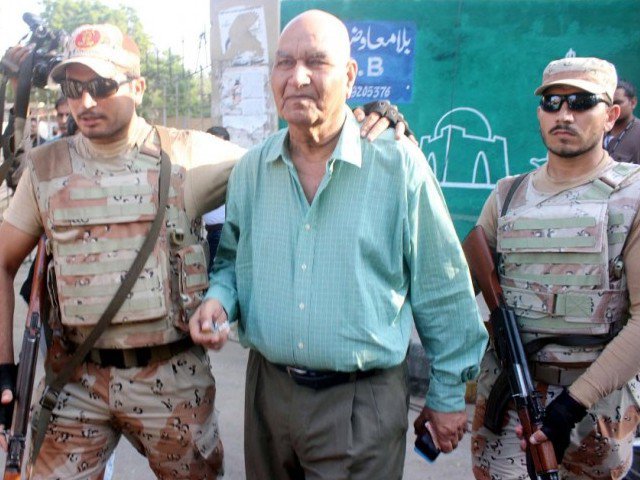 ---
HYDERABAD: Muttahida Qaumi Movement (MQM) - London leaders Prof Dr Hasan Zafar Arif, Kunwar Khalid Yunus and Amjadullah Khan, who were taken into custody on Saturday, were sent to Karachi Central Jail for 30 days.

Meanwhile, over half a dozen party activists, including Rabita Committee member Momin Khan Momin and the incharge of the newly-formed zonal committee of Hyderabad, Zafar Rajput, were detained in Hyderabad.

Two of the three key leaders of the party's pro-Altaf faction, Dr Arif and Yunus, were arrested by the paramilitary Rangers from outside the Karachi Press Club (KPC) while the third, Khan, was taken into custody after he remained for four hours in the club. The Karachi police said the leaders were detained under Maintenance of Public Order (MPO).

Pro-Altaf group launches bid to reclaim party

MQM-London's interim Rabita Committee convener Prof Arif and member Yunus had gathered at the KPC along with their supporters to address a press conference, in which lawyers and social activists were expected to join the party. However, the news conference could not take place as the two leaders were whisked away by the Rangers before they could step into the KPC building. The other member, Amjudullah, was taken into custody after he remained in the club for four hours.

MQM-London leader Wasay Jalil tweeted that the Rangers also raided Rabita Committee member Sathi Ishaq's house and arrested his 13-year-old son and 16-year-old daughter. The paramilitary force also raided another member Ashraf Noor's house and arrested his brother, he claimed in another tweet.

MQM-London convener Nadeem Nusrat demanded that the leaders be released immediately. Meanwhile, Khalid's wife appealed that her husband was a paralytic and must be given medicines on time.

Crackdown in Hyderabad

At least six party activists, including Momin and Rajput, were detained in the crackdown initiated against the pro-Altaf faction of the party in Hyderabad.

The Hali Road police also registered an FIR under Sections 123-A and 120-B, accusing Momin, Rajput and 10 others of shouting anti-Pakistan slogans at the party's sector office in Hali Road area. However, Momin and Rajput were granted bail against a surety of Rs10,000 each when the police produced them before the special magistrate on Sunday.

Momin, despite having been granted bail, has yet to be released by the police. Meanwhile, Rajput escaped from court after getting bail. The other supporters reportedly detained during the night time raids included Intikhab Alam, Raheel Alam, Javed Makahan and Mobin Salahuddin.

On Friday, MQM-London constituted an 11-member zonal committee for Hyderabad district, assigning the position of its interim incharge to Rajput, who is the chairman of a union committee of Hyderabad Municipal Corporation (HMC).

Razed to the ground

Three party offices which were in control of the pro-Altaf faction were demolished on Sunday by the anti-encroachment cell of the HMC under security cover provided by the Rangers and police.

The Hali Road office, which, according to HMC officials, was 'illegally' built in a municipal park, was among the demolished offices. Another sector office in Zealpak Market on Tando Muhammad Khan Road, allegedly built on municipal land, was also struck down. A unit office constructed in a government girls' school in Sareghat area in the limits of the Market police station was also knocked down.

Published in The Express Tribune, October 24th, 2016.
COMMENTS
Comments are moderated and generally will be posted if they are on-topic and not abusive.
For more information, please see our Comments FAQ