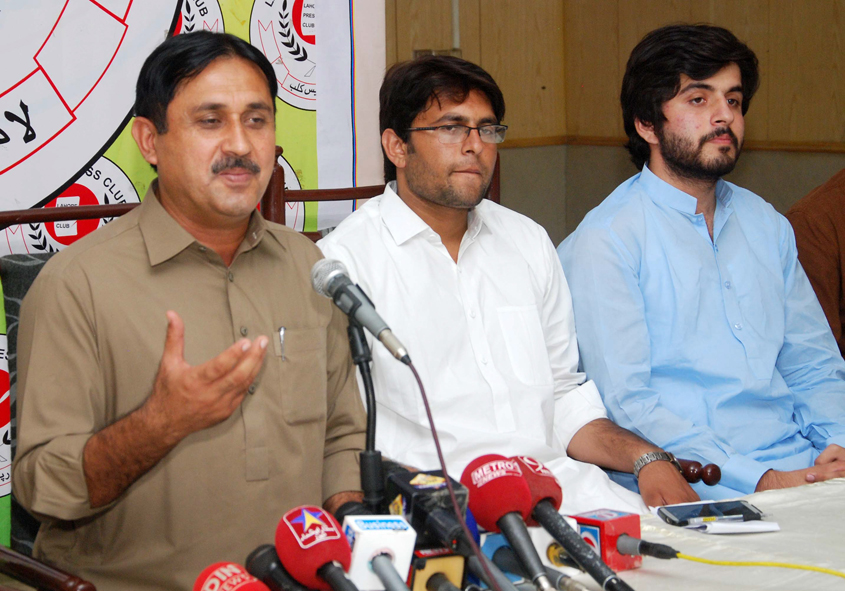 ---
LAHORE: MNA Jamshed Dasti has called 95% of the politicians in the assemblies corrupt, saying he will struggle for an "unbiased and united" Pakistan from the platform of his Awami Raaj Party.

The MNA was speaking at a news conference at Lahore Press Club on Friday. "The other 5% are those who get elected due to their parties, but remain silent," he said. "Our party will stand up against these people and will work for the common people."

He added that the Prime Minister House and President House be reduced to two-room structures, and took a rigorous stance for those involved in corruption, saying they should be given a death penalty.

While talking about role of the army in nabbing corrupt people, Dasti said, "We are proud of our army, but lack of action against corrupt elements raises suspicions." He also alleged a law minister to be supporting militants.




Dasti criticised the speech of senior leaders of Pakistan Peoples Party against corruption, claiming he has seen them being involved in looting people. "I went to Pakistan Tehreek-e-Insaf Chairperson Imran Khan, thinking he would be better, but one would find darkness in the inner circles of PTI," Dasti added. "[Imran] has gathered all the dead horses around him." However, he lauded the policies of Prime Minister Nawaz Sharif and believed nothing unpleasant will happen on November 2, the new date of PTI's Islamabad sit-in.

'Firm' on action

Dasti proposed that a five-member bench of top judges be formed to investigate corruption charges on all politicians and those found guilty should be awarded a sentence of 25 years.

About a check on institutes, he said, "The Kashmir Committee, which Maulana Fazlur Rehman heads, hasn't been audited in a long time. I wonder where the billions go, while somebody like Narendera Modi threatens us."

Moreover, he added, politicians were not apprehended for "criminal activities". He said that in South Punjab where groups like Chotu Gang were formed, politicians were not touched for harboring criminals and terrorists.

When asked how his single-seat party would turn the things around, Dasti said he would unite the working class of this country. "I am a poor man, but should be held accountable if found guilty of corruption," he said. "I still don't own a house and have competed landlords, including Khars, Legharis, Gorchanis, Gillanis and Qureshis in South Punjab."

To a question whether he plans to make an alliance with Sheikh Rasheed Ahmad, who also has a single-seat party, Dasti said he respected him, however, right now he was fighting for the people.

Published in The Express Tribune, October 22nd, 2016.
COMMENTS
Comments are moderated and generally will be posted if they are on-topic and not abusive.
For more information, please see our Comments FAQ