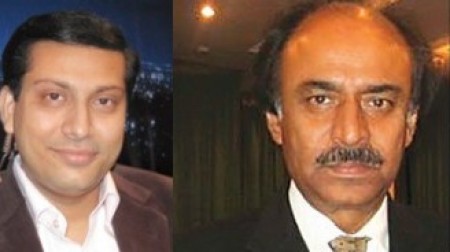 ---
KARACHI: Prime Minister Yousaf Raza Gilani's "suggestion" to restructure Hyderabad district has caused outrage at every front, while members of the Pakistan Peoples Party (PPP) are cheering the premier's statement.

According to the announcement made on Saturday, Hyderabad would return to its old administrative status, which would make Hyderabad, Mitiari, Tando Muhammad Khan and Tando Allahyar Khan one district, as was the case prior to 2005.

Amid the controversy, Sindh Chief Minster Qaim Ali Shah said that the media presented the prime minister's statement out of context. "The prime minister said that the decision on Hyderabad's division will be made only after consulting the coalition partners and all stakeholders," Shah said.

On the other hand, Sindh Minister for Youth Affairs Faisal Sabzwari, a Muttahida Qaumi Movement (MQM) MPA rejected the decision, saying that the MQM will not accept it at any cost. "We believe that the prime minister's announcement is against the will and wishes of the people of Hyderabad and Sindh."

Meanwhile, the acting Sindh Governor and Provincial Assembly Speaker Nisar Ahmed Khuhro said that if Karachi can be made one district, when it was previously five, then why is it wrong to restore Hyderabad to its original administrative status.

Taking to the media at the PPP media cell on Sunday, he said that the prime minister had made the announcement in reaction to the demands of the people of Hyderabad, who want the status to be restored.

However, Khuhro assured the media that all issues, including this one, would be resolved through consultation with the coalition partners and opposition. Khuhro said that districts in Sindh, including Hyderabad, were bifurcated by previous governments to appease some groups.

In Hyderabad, Federal Minister for Petroleum Naveed Qamar said that the decision of dividing the city into four districts was a mistake made by General (retired) Pervez Musharraf and former Sindh chief minister Dr Arbab Ghulam Rahim. However, he claimed that no formal decision had been made, adding that the MQM is mistaken and their reaction premature.

"The PPP always takes the sentiments of the people and coalition partners on board when making decisions and will continue to do so," he said and would do so in this case as well. However, coalition partner Pakistan Muslim League- Functional leader and Sindh chief minister's adviser Imtiaz Sheikh said that Sindh alliance parties need to be patient. "The Hyderabad division issue is not only the PPP's problem but of the people of Sindh." He advised the PPP to call a core committee meeting with all the leaders of the Sindh government, adding that a decision must be taken keeping everyone's view in mind.
COMMENTS
Comments are moderated and generally will be posted if they are on-topic and not abusive.
For more information, please see our Comments FAQ