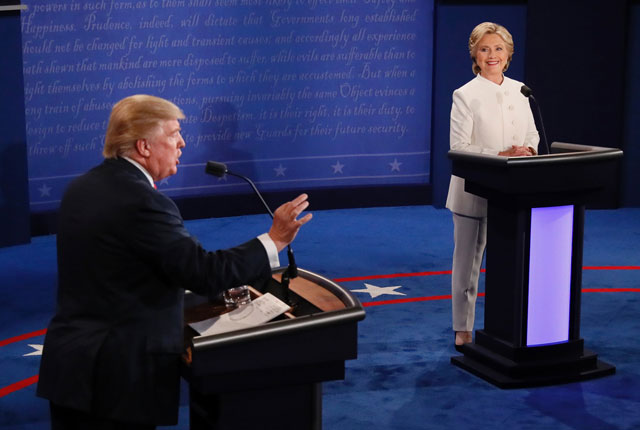 ---
There are still 20 days until America goes to the polls; and it is a country cleft like almost never before. The choice to be made on November 8 is going to anger almost half the population whoever wins, and leave the other half if not angry then not entirely sanguine either. As the months have gone by commentators have noted that the quality of political life has been dragged ever lower, in large part by Donald Trump who now looks a distant prospect to win, but also Hilary Clinton who has emerged as in many ways as no less savoury than Trump, but differently so.

According to the office of the American Census there were, in 2015, 41.1 million Americans officially living in poverty. Many of them live in states where Donald Trump is polling strongest; and he has arguably given voice to those who see themselves as the disenfranchised, the marginalised, the ignored — left behind as the world of business and industry changed. By contrast Hillary Clinton is doing well where she is expected to do well — the wealthy liberal states both east and west. The majority of polls — there is a plethora — place her between three and nine points ahead of Donald Trump, a seemingly unbridgeable gap electorally.

The final debate of the election produced little new. It was well moderated; the candidates performed as per script but as it wound up there was a twist to the tail. Allegations of rigging have been at the top of the Trump agenda ever since he began to look like the loser. In the closing moments of the debate he refused to unequivocally say that he would accept the outcome of the election. Iconoclast to the last he is upsetting custom and practice — the peaceful transition of power — and now poses the threat of a contested result and the protracted challenges that will inevitably follow. A depressing prospect. The result of the election is going to touch everybody everywhere, but the world may be kept in suspense as per the bidding of Donald Trump as to who will eventually sit in the White House.

Published in The Express Tribune, October 21st, 2016.

Like Opinion & Editorial on Facebook, follow @ETOpEd on Twitter to receive all updates on all our daily pieces.
COMMENTS
Comments are moderated and generally will be posted if they are on-topic and not abusive.
For more information, please see our Comments FAQ