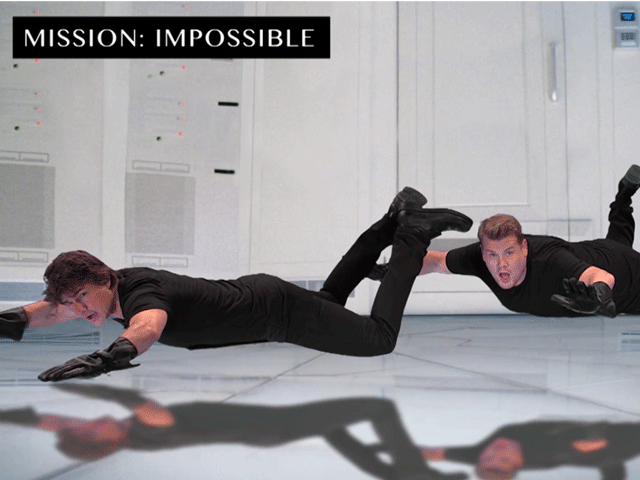 ---
Talk about mission impossible. Tom Cruise just recreated his entire movie career in a single take at The Late Late Show with James Corden.

Tom Cruise pulled into police probe after 'suicide bomber' threatens church

The three-time Oscar nominated actor acted out everything from the legendary "you can't handle the truth" scene in A Few Good Men to recreating the wild dance in Tropic Thunder. 

Cruise control: Tom Cruise arrives at work in a helicopter he flew

The highlight of the video was Cruise acting out to the entire Mission Impossible franchise. The pair began by descending into a faux vault just like the original movie.

Besides Cruise's recreation, the best parody was from Jerry Maguire. when Cuba Gooding Jr. surprised the audience and reprised his 1997 Oscar winning role as Rod Tidwell to once again yell, "Show me the money!"

Twitter absolutely loved this recreation:


Loving the Tom Cruise film compilation on the @latelateshow with James Corden. Outstanding.

— James Devlin (@JamesDevlin76) October 20, 2016
That @TomCruise movie montage on @latelateshow was pure🔥🔥🔥 #LateLateShow

— 💙🏈 Miss D 🏈💙 #IStandWithBubba (@SweetDsArgoFan) October 20, 2016
- Tom cruise you are just beyond a legend😂👌🏻

— Hayley Cruise (@Hayley_Gowen) October 20, 2016
The late late show really is a breath of fresh air on late night tv. @TomCruise and @JKCorden crushed it tonight.

— Ian Spaulding (@gamingian) October 20, 2016
This was brilliant!!! 😂 💯👏 #CruiseRoleCall #LateLateShow https://t.co/QlsfGbgMom

— Megan (@earendilstar) October 20, 2016


Watch the whole video here:


Have something to add to this story? Share it in the comments.