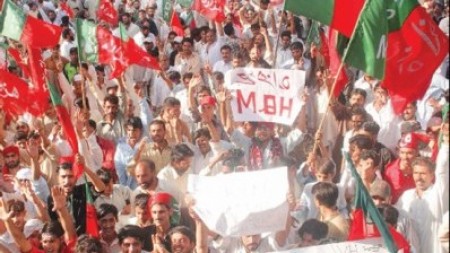 ---
ISLAMABAD: Federal Minister for Science & Technology Azam Khan Swati has said the provincial government of Khyber-Pakhtunkhawa has deliberately conducted operation in Kala Dhaka to crush the Hazara movement.

Speaking at a press conference here on Sunday along with JUI leader Maulana Ghafoor Haideri, he said there has not been any terrorist activity in Kala Dhaka but the provincial government has announced plans to launch an operation in the area to crush the strength of the Hazara movement. He pointed out that the federal government has not been on board as regards the operation in Kala Dhaka.

It was only the Khyber- Pakhtunkhwa provincial government that has called FC and police to eliminate the so-called miscreants from the area, he alleged. The federal minister said that he would consult Prime Minister Yousaf Raza Gilani over the issue to address his concerns regarding the provincial government decision.

Maulana Ghafoor Haideri said that peace couldn't be restored in the region till the US stayed on there, adding that the government has been carrying out military operation in Waziristan at the behest of the US.

He urged the Supreme Court to take suo moto notice on the issue of Kala Dhaka. Meanwhile, Khyber- Pakhtunkhwa Information Minister Mian Iftikhar Hussain urged the leaders of Hazara Action Committee to adopt a constitutional method for the creation of a new province. Addressing a public meeting at Jalozai on Charat Road in Nowsehra district, he said the provincial government believes in dialogue and reiterated the government's stance that it was ready to hold talks with the elders of the Hazara action committee for peaceful resolution of the problem.

All genuine demands of the people of Hazara would be addressed and their share in the next Annual Development Programme (ADP) would be enhanced to remove the sense of deprivation among them, he promised. The minister said: "The people of Hazara are our brethren and we will take steps to address their concerns and their suggestions will be considered." He said peaceful protest is the democratic right of the people. However, the government would not allow anyone to take the law into their hands and disrupt the peace of Hazara.
COMMENTS (11)
Comments are moderated and generally will be posted if they are on-topic and not abusive.
For more information, please see our Comments FAQ