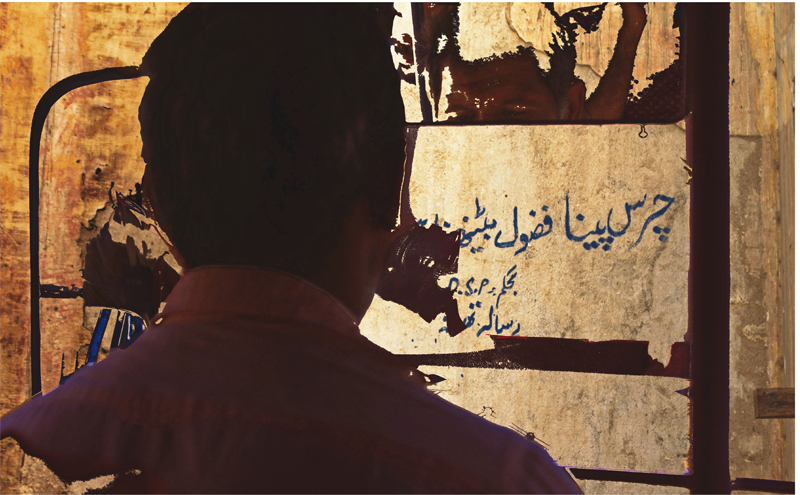 ---
KARACHI: Ramla Fatima's exhibition, titled 'Hiatus', currently on display at Sanat Gallery, presents the artist's thoughts on missing people, leaving viewers to ponder over their disappearances.

Talking about these images, Fatima, who is a trained sculptor from National College of Arts, Rawalpindi, said she has tried out digital prints. "I have been working on this concept of missing persons for the past two years," she said while talking to The Express Tribune about the project.

"Buildings, people and objects, when they become abandoned, play no definite role as an end product," she said. "There is always an overlapping image." She was of the opinion that things might be a little varied with objects and buildings. "However, when human elements get abandoned, that is something you strongly feel about," asserted Fatima.

Recently, on her trip to the city, Fatima said she saw this more in the case of Karachi than anywhere else. According to her, it was here in this city that she observed that the problems of Karachi surface more in spite of the missing beings link. This led her to showcase her digital prints in a gallery based in Karachi.

The images, which depict stories of missing people and their disappearances, have the backdrop of architectural image. Fatima first photographed these images and then transformed them into digital prints while using some oil as a medium to enhance the final output.




The artist's work shows a sensitive understanding of forgotten histories and personalities, which seems to evaporate in big cities such as Karachi. Fatima tends to leave the viewer in suspense about what is truly happening or about what the future has in store.

While expressing his thoughts about Fatima's work, Sanat Gallery owner Abid Merchant said that her digital prints talk of the missing human body.

"There is no solid ratio as to how many people have gone missing so far," he said. "These were not stock images but were photographed by her and made into digital prints as the final product." He believes that these images are sound pieces redefining the theme itself. The exhibition of these images is open for public till tomorrow (October 18).

Published in The Express Tribune, October 17th, 2016.
COMMENTS
Comments are moderated and generally will be posted if they are on-topic and not abusive.
For more information, please see our Comments FAQ