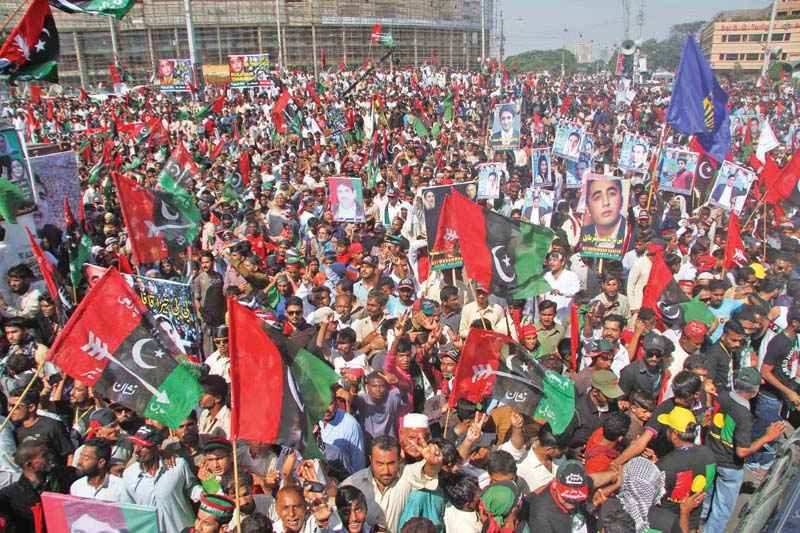 ---
KARACHI: The residents of Karachi suffered on Sunday what was perhaps the worst traffic blockade in recent times as access to the main arteries of the city, including Sharae Faisal and MA Jinnah Road, was not allowed.

The blockade was part of the security measures taken for Pakistan Peoples Party's (PPP) rally on Sunday, organised to commemorate the martyrs of the Karsaz incident. The party chose to have the rally on Sunday, two days ahead of the actual anniversary of the Karsaz tragedy, to mitigate public suffering that becomes inevitable in the wake of road blockades.

Bilawal throws up fresh challenge to govt

The rally started from Bilawal House at 2pm and, passing through Boat Basin, Mai Kolachi Road, Jinnah Bridge, ICI Chowk, Aga Khan Jamat Khana, Kakri Ground, Lea Market, Napier Road, Denso Hall, MA Jinnah Road, Numaish, Sharau Quaideen and Sharae Faisal, culminated at Karsaz.

Nonetheless, residents reported that they faced severe difficulties in reaching important destinations such as the Airport, railway stations and hospitals.

According to traffic police spokesperson Muhammad Idrees, all the roads, which the rally had to pass on, were blocked at 2pm. These included Sharae Faisal, Sharae Quaideen and MA Jinnah Road among others. Nevertheless, he said, diversions had been provided for all the blocked roads.

Public anger

Salman Ali, a resident of Bahadurabad, shared his ordeal of taking his father to the Airport with The Express Tribune. According to him, he had to take different routes to reach his destination. He added that despite the fact that the flight timings were hours before the rally had to reach Sharae Faisal, access to the road was denied since the morning.

Similar suffering had to be borne by even motorcycle riders. According to Jasim Rizvi, he wanted to reach Saddar from his residence in Gulistan-e-Jauhar for some urgent work. He took an alternative route after he found out that the new MA Jinnah Road was closed for traffic. Upon trying his luck at the Nishtar Road, he was once again stopped by the traffic police, who told him that 'you can go to Mauripur today but not Saddar'.

Bilawal using names of martyrs to beg for votes: Palijo


A man facing trouble due to the containers that were placed in different areas of the city for Pakistan Peoples Party's rally on Sunday. PHOTO: ONLINE

Residents of Karachi also took to social media to vent out their anger against the road blockades. Abiha Haider lamented by posting on 'Halaat Updates' - a Facebook page about happenings in Karachi - that she has no hope of reaching the airport from Defence Housing Authority Phase VI to catch her flight at 9pm.

Suffering of the sick

There were reports that roads leading to Jinnah Postgraduate Medical Centre (JPMC) and Civil Hospital, Karachi, had also been blocked.

Ambulance driver Muhammad Asif told The Express Tribune that he took all the patients to Abbasi Shaheed Hospital instead of Civil hospital or JPMC as there was no way for them to reach the latter since Sharae Faisal was closed for traffic.

Another driver, Mubeen Adil, shared a similar story and said that he had to bring patients from Garden area to Abbasi Shaheed Hospital since the Civil hospital, which was closer to the area, was impossible to reach.

Javed Jamali, the focal person of JPMC, told The Express Tribune that the number of patients on Sunday was fewer than the average number of patients received on a usual day. He said that even though patients are few in number on an average Sunday, they were even fewer on the day of the rally. He added that he was not aware of any specific reason for the inflow of patients.

Meanwhile, traffic police spokesperson Idrees claimed that the containers in the surroundings of the hospitals had been lying there since Ashura, adding that the barriers were lying only on the sides of the roads and people thought that they were blocking the entire roads.

PPP apologises

Talking to The Express Tribune, a senior PPP leader based in Karachi, Habibuddin Junaidi, apologised to the public on behalf of the party if any inconvenience was caused to them by the rally. It was not intentional, he said. According to him, the party tried its best to lessen the worries for the people, which is why PPP chairperson Bilawal Bhutto decided to hold the rally two days ahead to the actual date of the anniversary. 

Published in The Express Tribune, October 17th, 2016.

 
COMMENTS (4)
Comments are moderated and generally will be posted if they are on-topic and not abusive.
For more information, please see our Comments FAQ