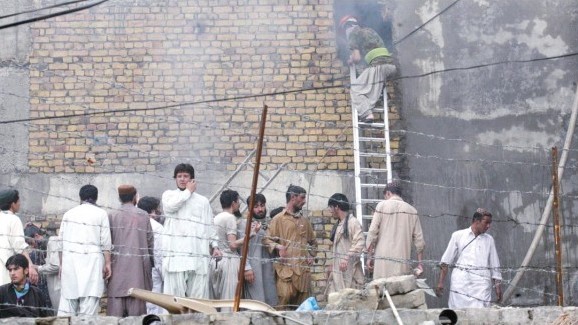 ---
QUETTA: Pakistan Air force was called out to put out a deady fire on the ground with the help of its fire tenders as the local fire brigade did not have the proper equipment.

The fire took place in a busy commercial area of Quetta on Friday. Fire fighters from the PAF and other rescue workers managed to bring the fire under control after 20 hours on Saturday. Officials said that equipment was provided by the Air Force as the fire brigade did not have adequate equipment.

Fire fighters had struggled the whole night to contain the fire which started at the city shopping center adjacent to Liaqat bazaar. The fire brigade and Water and Sanitation company (Wasa) tankers rushed to the site to help extinguish the fire. The police had claimed earlier that the fire would soon be extinguished. However, it continued to spread.

Traders have claimed that almost 300 shops have been destroyed.Six firefighters fell unconscious as they were trying to save valuable items from perishing in the fire. The injured were shifted to Government Sandman Hospital Quetta for treatment. While visiting the area, Commissioner Quetta Naseem Lehri said that a committee has been formed to investigate the incident.

The committee will provide a comprehensive report after conducting their inquiry. "The City shopping mall owners violated the Building Code. They did not establish any way to enter or to come out in an emergency therefore rescue workers faced difficulty in bringing the fire under control early," said Naseem Lehri adding that officials are thoroughly investigating the incident.

Most commercial establishments remained closed for the day in the area. Addressing a news conference at the Quetta Press Club, the owner of the shopping centre, Haji Mumtaz Achakzai claimed that it was a subversive act and that the financial loss runs into millions. Senior Provincial Minister Maulana Wasey and other government figures also visited the area to monitor the rescue efforts.