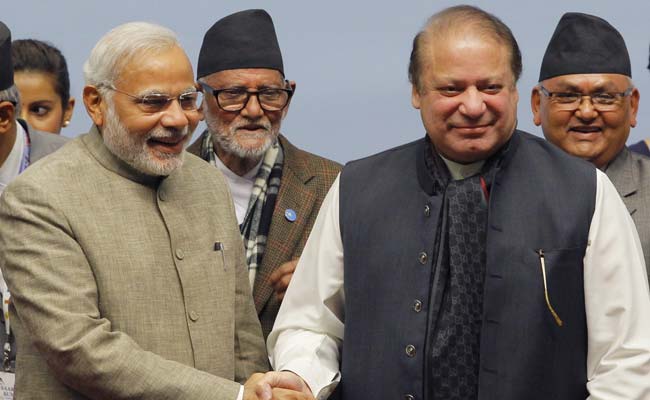 ---
BEIJING: A senior official of China's foreign ministry voiced hope on Tuesday that tensions between Pakistan and India will defuse after the upcoming summit of five emerging economic powers in a western Indian state later this month.

India's decision to seal Pakistan border irrational: Chinese experts

China's President Xi Jinping will travel to Goa to attend the 8th summit of BRICS — Brazil, Russia, India, China and South Africa — which will be held on October 15 and 16. The Chinese leader would also meet Indian Prime Minister Narendra Modi.

"China is concerned at rising tensions between Pakistan and India over the Kashmir issue," Xiao Qian of the Department of Asian Affairs told a group of senior Pakistani journalists in Beijing on Tuesday. "China will try to normalise strained relations between Pakistan and India," he added. He said the two countries should resolve the festering dispute through dialogue. "China appreciates Pakistan's commitment to dialogue with India."

Tensions have been running high between Pakistan and India since the Sept 18 deadly attack on an Indian military base in Uri, in the disputed Himalayan state. New Delhi whipped up war hysteria, especially after conducting self-styled surgical strikes in the Pakistani side of Kashmir — a claim strongly denied by Islamabad.

India striving to promote military ties with China

"Pakistan and India should shun the talk of war," Xiao said. However, he reiterated his country's assurance that it would stand by Pakistan in every situation. He admitted that durable normalisation might not be possible without resolving the festering dispute which Pakistan describes as the real bone of contention with India.

On the Afghan peace process, the Chinese official said that Beijing tried to facilitate talks between the Taliban and the Kabul administration — but the process was suspended following the killing of Taliban supremo Mullah Akhtar Mansoor. Mansoor was killed in a US drone strike in Balochistan while he was returning from neighbouring Iran on May 21, 2016.

China was part of the Quadrilateral Coordination Group that also involved Afghanistan, Pakistan and the United States. However, the quartet process has been on hold since the killing of Mullah Mansoor as his successor, Maulvi Hibatullah Akhunzada, has refused to pursue talks with Kabul.

With reference to the China-Pakistan Economic Corridor, Xiao said India had some objections to the multibillion-dollar project because it would pass through Gilgit-Baltistan region, but Beijing was committed to completing the massive road and rail link irrespective. "China's message to India is that CPEC will improve the Kashmir region as well as people's [lifestyle] there," he added.

Since balance of trade is tilted highly in favour of Beijing, he said China was investing in Pakistan so that Pakistan could also reap economic benefits. The purpose of CPEC was to increase foreign investments in Pakistan. "After Lahore, industrial parks will also be built in Karachi, Islamabad and Gwadar," he added. "An economically strong Pakistan will ensure balance of power in the region."

Meanwhile, Chinese experts criticised India's decision to completely seal its western border with Pakistan as 'very irrational', according to the Times of India. On Friday, Indian Home Minister Rajnath Singh announced that the 3,323-km-long border with Pakistan would be 'completely sealed' by December 2018.

China's straight talk leaves India reeling

Chinese experts said it would further complicate already tense India-China relations considering Beijing's 'all-weather' strategic ties with Islamabad.

"India is making a very irrational decision, since no exhaustive investigation has been conducted after the last month's Uri incident [in Indian-held Kashmir], and no evidence proves Pakistan is behind the attack," the Global Times quoted Hu Zhiyong, a research fellow from the official think tank Institute of International Relations of the Shanghai Academy, as saying.

"A completely sealed border would further hinder the already scarce border trade and talks between the two countries. The country's decision reflects its Cold War mentality, and would only cause deeper hatred among residents living in Indian- and Pakistan-controlled Kashmir," Hu added.

Another expert, Wang Dehua, director of the Institute for Southern and Central Asian Studies at the Shanghai Municipal Centre for International Studies, said, "A sealed border would only disrupt peace efforts made by the two sides [India and Pakistan]."

Experts share the view that India's decision would make China-Pakistan-India relations more complicated. "But a peaceful resolution of the Kashmir dispute is in the interest of China's homeland security, especially its western regions," Hu said.

Published in The Express Tribune, October 12th, 2016.
COMMENTS (16)
Comments are moderated and generally will be posted if they are on-topic and not abusive.
For more information, please see our Comments FAQ