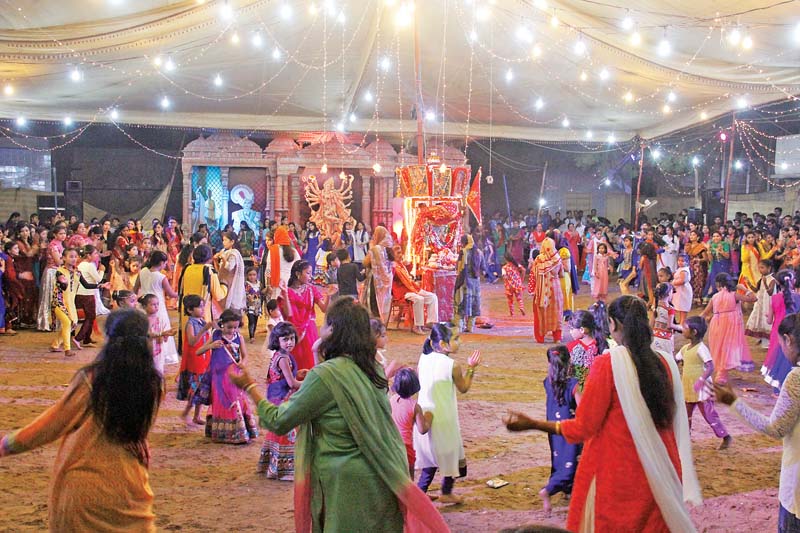 ---
KARACHI: In a bid to promote interfaith harmony, the Hindu community has decided not to perform the burning of the 50-feet-high effigy of Ravana at the culmination of the Ram Leela play which occurs almost every year during Navratri at Swami Narayan Mandir out of respect for Muharram.




"A large number of people of our community come every year to watch Ram Leela," says Kishan Lal, the vice-president of Swami Narayan Sheva Garba Mandal. "But because roads are closed out of security these days and many people can't come, we decided not to perform the play. Nobody told us not to perform the Ram Leela. But obviously they [Muslims] are our brothers. They respect us and we respect them." He added that the effigy of Ravana will not be burnt this year as the rite is carried out only when Ram Leela happens.

"Everyone should respect each other," said a visitor, Bahanji Lakshman, while talking about not having Ram Leela this year out of respect for Muharram.

Muharram processions: Police issue traffic plan

Navratri, which means nine nights, is observed every year to pay homage to Hindu deity Durga and to celebrate Ram's victory over Ravana, which symbolises the victory of good over evil.

Festivities

Three children were hopping towards the ground where the garba and other celebrations were taking place. "We will play dandiya [a dance performance with sticks in hands]," said one of them, Ronit, adding that they perform the dance every year.




Inside the ground, women sat on the left and men on the right while a large number of young women and children performed garba to traditional music. Jamna, an elderly woman who lives in the mandir, said that the area is like a village for the Hindu community. Sitting beside Jamna, Susheela said that she got new clothes for Navratri. "Navratri is celebrated for nine days in honour of Ambay Mata [Durga]," she explained. "We fast during the day and celebrate and dance during the night. After 20 days of Dusehra [celebrated the day after Navratri], we will have our Diwali."

Another young woman, Suman, shared that she was really enjoying the festival and comes to the temple every year. "We come here and play dandiya," she said. "It's a lot of fun."




Talking about the celebrations, Lal stressed that their women attend the events late at night without facing any kind of problem.

The importance of observing Muharram the Islamic way

Free drinks

Clay pots were lined across a table inside the temple, where young men were offering free water and sherbet to visitors. "We distribute milkshake before and after aarti," said Dipesh Kishan, adding that they provide it all for free at their camp as not everyone can afford to buy bottled water. He explained that he and his friends arrange the money on their own for setting up the camp, adding that the entire neighbourhood contributes whatever they can. 

Published in The Express Tribune, October 10th, 2016.