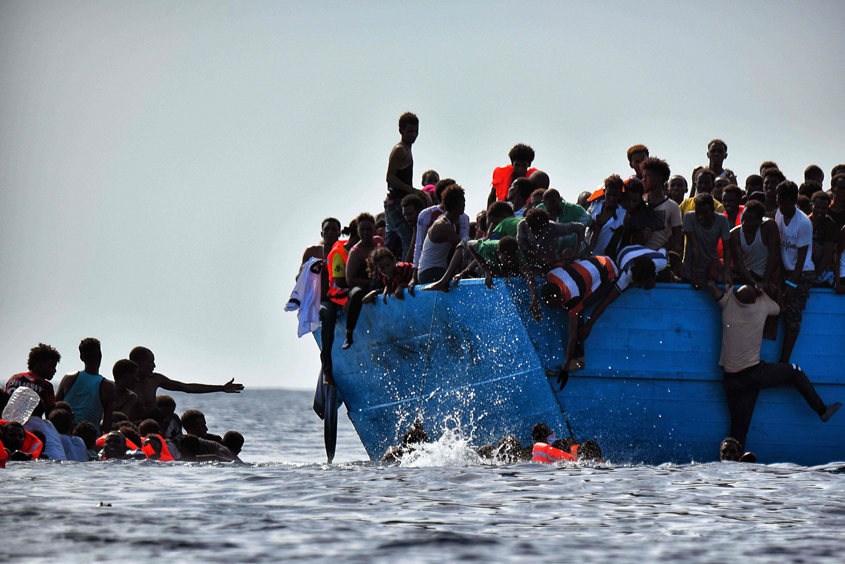 ---
ABORD THE ASTRAL, ITALIE: At least 22 Europe-bound migrants died on Monday in an overloaded wooden boat off Libya, most of them having suffocated, an AFP photographer said.

Over 6,000 migrants plucked from sea in a single day, nine dead

"It was a wooden vessel and there were about 1,000 people on three levels. I counted 22 bodies and there are still others in the hold," photographer Aris Messinis, who was able to go on board the vessel, said by telephone.

Messinis was travelling on the Astral, a ship chartered by Spanish NGO ProActiva Open Arms, which rescues migrants at sea.

Towards 2000 GMT the Astral rescuers moved back to allow the Italian navy to take care of the survivors and retrieve the bodies, the photographer said.

Two car bombs hit Libya's Tripoli, no casualties

Contacted by AFP, the navy had no immediate comment.

With numerous rescue boats en route to Italy to unload more than 6,000 migrants rescued in the Mediterranean on Monday, the Astral was left alone to deal with the overloaded boat for several hours, aided only by lifeboats dropped by a Spanish military plane until the navy arrived at midday.

"There was panic onboard, there were people jumping into the water," Messinis said.

Britain's Libya intervention flawed, Cameron to blame: lawmakers

The Astral's rescue operations had begun before dawn and lasted until nightfall.

The Italian coastguard, which is coordinating rescue efforts in international waters north of Libya, said earlier that at least 1,800 migrants had been rescued off the Libyan coast on Tuesday.