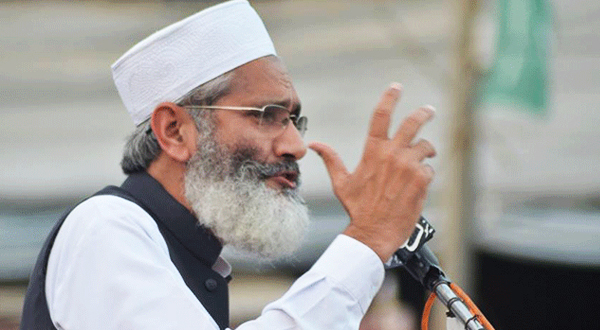 ---
QUETTA: Indian Prime Minister Narendra Modi's stupidities will lead to his country's fragmentation just like the defunct-Soviet Union, predicted chief of Jamaat-e-Islami (JI) Senator Sirajul Haq on Sunday.

At the end of his two-day stay in Balochistan, he called for severing diplomatic ties with India, insisting that Islamabad should immediately recall its envoy from New Delhi.

According to Senator Sirajul Haq, the only viable solution to the Kashmir issue was to give the people of Kashmir their right to self-determination.

"We must not expect anything from America as it has always supported the cruel."

He said not only the Kashmir issue, but other problems too would be solved if "our political leaders stopped relying on America".

The people of Balochistan, he said, had proven that they loved their country and were loyal citizens by taking to the streets against Indian PM Narendra Modi.

Appreciating Balochistan's political acumen, he said that it was the first province to decide to be annexed with Pakistan. "The people of Balochistan (repeatedly) proved their loyalty … they take pride in this decision, but they have always been denied of their fundamental rights," Senator Sirajul Haq said.

Highlighting Balochistan's richness in minerals and precious metals, he said that while its soil yielded gold and silver, the Baloch people were without adequate provision of water. "Our own leaders are responsible for the lawlessness in Balochistan," he maintained.

Stressing the need for addressing Balochistan's concerns on China-Pakistan Economic Corridor projects, he insisted that "violence in Balochistan would end once people's rights are restored".

Balochistan, he said, should be provided with quality education, better health facilities and a fair share in job opportunities like other provinces. "Insensible leaders in Islamabad are adding to the problems of Balochistan."

Referring to Panama Papers, Sirajul Haq said while Prime Minister Nawaz Sharif claimed on TV that he was ready for any kind of accountability, he was actually unwilling to face courts.

He warned the government of staging sit-ins at NADRA offices across the country after Muharram if people were not given identity cards.

Published in The Express Tribune, October 3rd, 2016.
COMMENTS (5)
Comments are moderated and generally will be posted if they are on-topic and not abusive.
For more information, please see our Comments FAQ