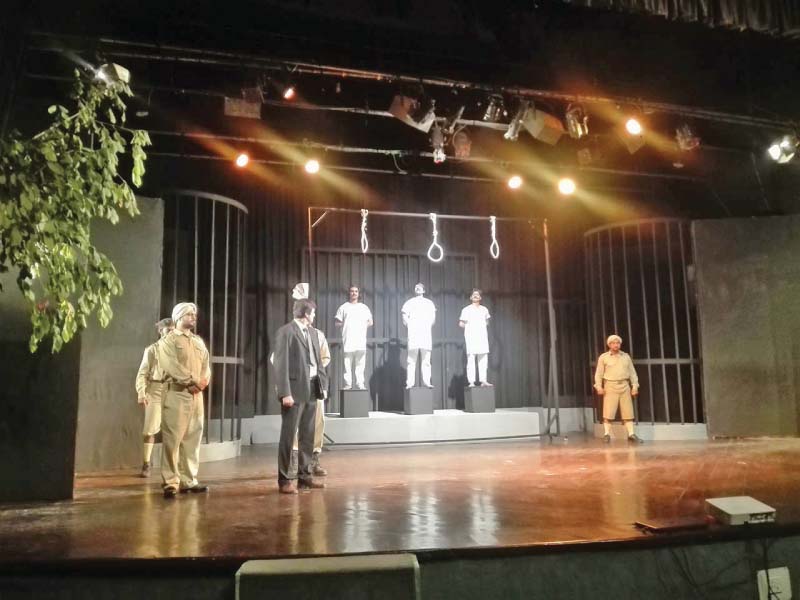 ---
LAHORE: Paying tribute to Bhagat Singh on his 109th birth anniversary, Ajoka Theatre staged 'Mera Rang De Basanti Chola' at the Alhamra arts council, Mall Road. Singh was one of the most influential revolutionaries of Indian Independence movement and was hanged to death in Lahore jail in 1931.

According to Creative Director Madeeha Gauhar, the play was first staged in 2011 and has since remained one of most popular performances.

"Bhagat Singh's legacy is one which our people can truly celebrate and the play is yet another attempt at correcting historical distortions and narratives," she said. "The play also sheds light on little-known historical facts related to Bhagat Singh's ideology and his trial, including the fascinating Nawab Ahmed Khan's murder link to Bhagat Singh and Zulfikar Ali Bhutto."

Written by Shahid Nadeem, the 45-minute play attempts to pay tribute to Singh's legacy with a musical score, making use of poetic tributes, including songs sung by the revolutionary trio at the time of their hanging.

According to Madeeha, the country's youth is not entirely familiar with the subcontinent's history and particularly those freedom fighters who are not Muslims. Bhagat Singh has a very significant relationship with Lahore, he was educated in this city and executed in the Lahore jail, she said.

She said the play was an attempt to reinstate the fact that he was the son of Lahore, who lived and died for the cause of freedom and his legacy should be celebrated time and again.

There has been a longstanding demand from people that the place where he was executed, now known as Shadmaan Chowk, should be named after him. But the government binned the proposal after demonstrations from rightwing parties.

Madeeha believes putting stories and historical narrative in the correct perspective was important. "The way our textbooks have been formulated and historical narratives are taught to children, our focus has remained on Muslims' struggle for independence, completely negating and overlooking the role of people from other faiths," she said.

Time and again, she added, Ajoka has tried through its plays to correct this view of history by its plays based historical figures such as Bulleh Shah, Dara Shikoh and Faiz Ahmed Faiz.

Published in The Express Tribune, September 29th, 2016.
COMMENTS (1)
Comments are moderated and generally will be posted if they are on-topic and not abusive.
For more information, please see our Comments FAQ