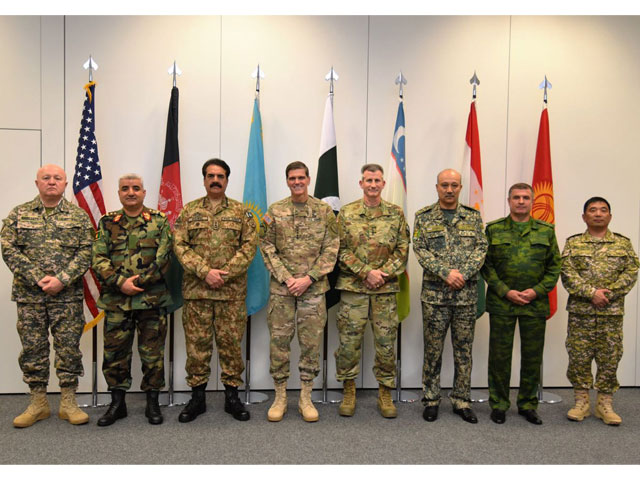 ---
Army chief General Raheel Sharif has said Pakistan's efforts against terrorism are continuing and but its complete elimination is only possible with optimum cooperation between neighbouring countries.

"Pakistani security forces have valiantly fought terrorists upfront through an across the board, indiscriminate operation against terrorists of all hue and colour along with their abettors, financiers and sympathisers," the COAS said while elaborating the concept and success of military operation Zarb-e-Azb to heads of world armed forces in Stutgart, Germany on Monday, according to the ISPR.

General Raheel is in Germany on a day-long official visit to participate in a conference of Chief of Staffs of the Armed Force being held under the auspices of US Centcom.

"With unflinching support of entire nation terrorists' ideologies and their narrative have been defeated and their sanctuaries and hideouts completely eliminated," the COAS told chief of armies of Afghanistan, Kazakhastan, Kyrgyz Republic, Tajikistan, Turkmenistan, Uzbekistan and the host General Joseph Votel, Commander US Centcom.

Army chief vows to defend every inch of Pakistan

According to ISPR, the participants expressed their desire to improve multilateral military cooperation to meet the emerging security challenges and jointly defeat the menace of terrorism comprehensively.

In his address at the forum, General Raheel highlighted the regional security environment, common challenges and way forward for the participating countries. "Pakistan's counter terrorism efforts have turned the tide against terrorism in the country. Pakistan is the biggest victim of terrorism both in terms of human lives and finances."

The army chief termed success of the country's counter-terror operation as a common dividend which "should be optimised and shared".

He also offered to benefit from Pakistan's initiative and experiences in terms of regulation of cross border movement, socio-economic development of border regions and enhanced cooperation in terms of intelligence sharing.

Highlighting the ongoing atrocities in Indian-occupied Kashmir (IOK), the COAS said: "India is unwilling to address historical disputes like Kashmir that directly fan misunderstanding and feed into persistent regional culture of conflict."

General Raheel also offered unlimited and sustained support to all participating countries in the conference, particularly Afghanistan. "Route to a peaceful and prosperous region runs through a stable Afghanistan, which is achievable through comprehensive and coordinated approach," he emphasised.
COMMENTS (1)
Comments are moderated and generally will be posted if they are on-topic and not abusive.
For more information, please see our Comments FAQ