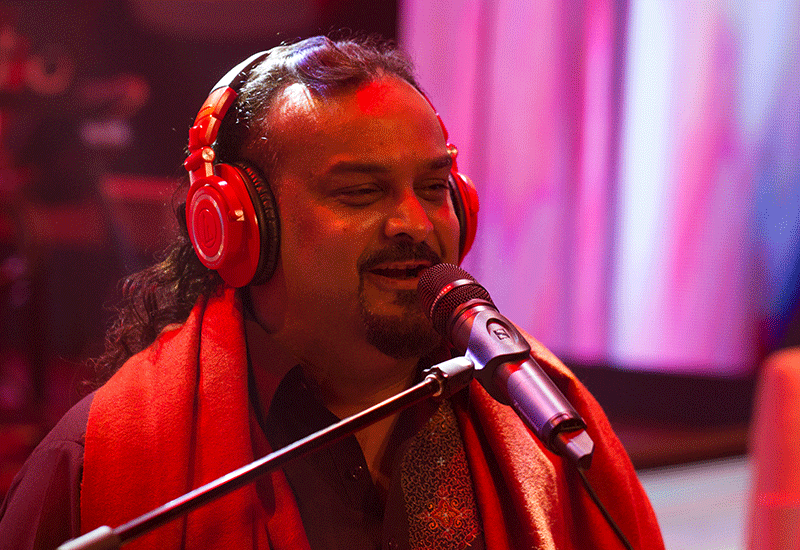 ---
The finale of Coke Studio season 9 will surely go down in history as the late Amjad Sabri performed for one last time.

The qawwal legend, who was shot dead in Karachi in June, shared the stage with the living legend Rahat Fateh Ali Khan to perform the soulful rendition of Amir Khusro's divine kalaam Rang.

Amjad Sabri's Coke Studio debut: The legendary qawwal's parting gift




Originally performed by maestros Ghulam Farid Sabri with Nusrat Fateh Ali, the duo took us soul-stirring journey with their powerpacked vocals.

Amjad Sabri shot dead in Karach

Rahat managed to woo us with his singing prowess as usual, but it was Sabri who pulled on our heartstrings.




AR Rahman reacts to Amjad Sabri's killing

Fans outpoured their emotions on Twitter as the former took the stage for his parting gift.

Tears, goosebumps and joy.... Here's what they have to say about Sabri's unforgettable performance.


Brilliant Rang, Rahat Fateh Ali Khan & Amjad Sabri, Season Finale, Coke Studio Season 9 https://t.co/ah2g13O54c

— Maleeha Lodhi (@LodhiMaleeha) September 24, 2016
Those who killed Amjad Sabri will 1 day die unnoticed/unsung. Sabri's voice will b heard for generations. Music lives on. Talent never dies. https://t.co/J3VInnOr21

— Fifi Haroon (@fifiharoon) September 24, 2016


https://twitter.com/MahaKhanPTI/status/779386049353113602


Just listened to the last song by Amjad Sabri.It made me cry. Sir, you and your voice will live forever.

— Sir Saith Abdullah (@SaithAbdullah99) September 23, 2016


https://twitter.com/jazba_junoon/status/779531133021216769


Mai to jab dekhun moray sang hai ri maa rang hai ri..

Amazing by Amjad Sabri, You'll Live with us forever sir.
Rest in Peace

— nma (@namaloomafraaad) September 23, 2016
#CokeStudio reminding us of da gem v lost so soon.
Emotions running high listen2 Rang.💔 Thank yu 4 ur last gift u left da world, Amjad Sabri

— منزه (@munazzashams) September 23, 2016
Listening to Rang Of CokeStudio Finale and trying not to cry.
You will be missed Amjad Sabri.

— Malak Sahaab (@zedmalick) September 23, 2016
https://t.co/COoaB4yYx2
This makes me happy ❤

— Tommy (@TheDesiTommy) September 23, 2016


https://twitter.com/aimalfarooq/status/779456901570498561

And he received love from across the border too.


#AmjadSabri silenced forever. #RahatFatehAliKhan silenced in India. But how good they are here: https://t.co/glW1SPZMg2 h/t @aayushsoni

— Aseem Chhabra (@chhabs) September 24, 2016
Music can't get more magnificent than this https://t.co/69ttqsg7so Those who #SayNoToPakArtist carry same hate as Amjad Sabri's killers

— Aditya Menon (@AdityaMenon22) September 24, 2016


Here's your song of the day, music directed by Shani Arshad and produced by Strings.

https://www.youtube.com/watch?v=r4WZyi4dtIU