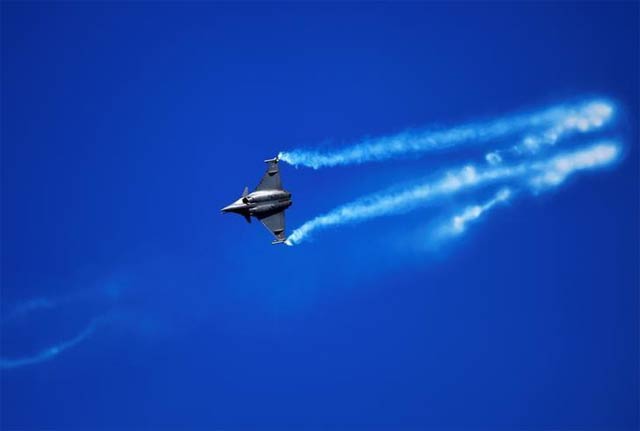 ---
India signed a deal to buy 36 Rafale fighter jets from France on Friday for close to 7.8 billion euros ($8.7 billion) on Friday, the country's first major acquisition of fighter planes for two decades.

France's Defence Minister Jean-Yves Le Drian inked the agreement with his Indian counterpart Manohar Parrikar in New Delhi, ending almost 18 months of wrangling over financial terms between New Delhi and Dassault Aviation, the jet's manufacturer.



India approves Rafale fighter jet deal

India's defence ministry said it would confirm the exact price later on Friday, but officials said it would be close to 7.8 billion euros.

India needs more than Rafale to match China

India may have just spent billions of dollars on hi-tech French fighter jets, but experts say it needs to do a lot more if it is going to face up to an increasingly assertive China.

The world's top defence importer has signed several big-ticket deals as part of a $100-billion upgrade since Hindu nationalist Prime Minister Narendra Modi took power in 2014. But it has been slow to replace its dwindling fleet of Russian MiG-21s — dubbed "Flying Coffins" because of their poor safety record.

India needs more than Rafale to match China

An agreement to buy 36 cutting edge Rafale jets from France's Dassault aims to fix that. "It will give the air force an arrowhead. Our air force has old aircraft, 1970s and 1980s generation aircraft and for the first time in about 25-30 years we will have a quantum jump in technology," defence analyst Gulshan Luthra told AFP. "Rafale is loaded with (the) best of the technologies and we need it."

The air force says it needs at least 42 squadrons to protect its northern and western borders with Pakistan and China. It currently has around 32, each comprising 18 aircraft. Air force representatives warned India's parliament last year that the number of squadrons could fall to 25 by 2022, putting India on a par with its nuclear-armed neighbour and arch-rival Pakistan.
COMMENTS (2)
Comments are moderated and generally will be posted if they are on-topic and not abusive.
For more information, please see our Comments FAQ