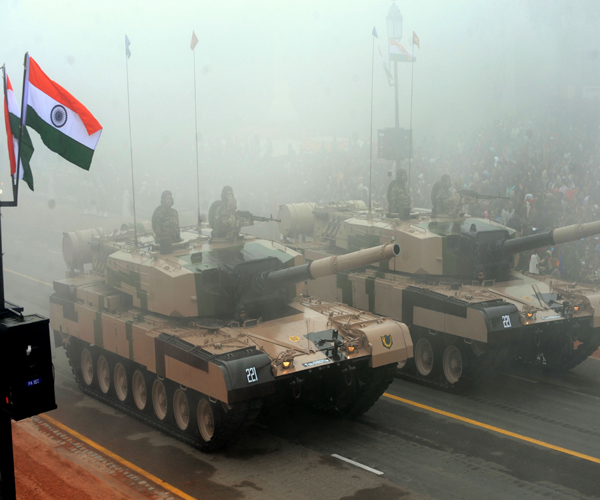 ---
Days after militants killed 17 of its soldiers in the Uri sector of disputed Kashmir, Indian army has reportedly moved heavy artillery along the Line of Control (LoC).

According to a BBC Urdu report, Indian Prime Minister Narendra Modi on Thursday spent his day at a military operation room where he monitored his army's movement along the LoC.

The assault, in which four commando-style gunmen burst into the brigade headquarters in Uri at 5:30 am (midnight GMT) on September 18, was among the deadliest in held Kashmir, and has raised new fears of military conflict between the nuclear-armed neighbours.

Lahore-Islamabad motorway closed for 'routine' PAF drill amid India tension

In a knee-jerk reaction to the attack on the brigade headquarters, India's civil and military leaders squarely blamed Pakistan with media commentators calling for a military response. Pakistan, however, dismissed the Indian allegations as 'baseless and unwarranted'.

Meanwhile, Pakistan Air Force (PAF) closed Lahore-Pakistan motorway on Thursday to let it practice landing jets on the road, in what it said was routine training not related to heightened tension.

"You referred to some exercises on Pakistan's side. Let me tell you that these are routine exercises," Foreign Office spokesperson Nafees Zakaria said, adding that the armed forces and the entire nation of Pakistan remain ready to defend country's sovereignty and territorial integrity at all costs.

'India will not attack Pakistan or AJK'

Military officials privy to the developments along the LoC confirmed the news, saying large-calibre guns were installed with bofors guns in the area to target Pakistani defense establishments.

The latest gearing up was carried out after observing "Pakistan Army's movements", Indian army officials told the BBC.

Indian military sources added they were preparing for war but the latest exercises were carried out 'to preempt the chances of any assault in future'.

India has long accused Pakistan of playing a role in the 27-year-long insurgency against its rule in occupied Kashmir, its only Muslim-majority state. Calls for a military response have increased since the Uri attack, particularly from some politicians within Modi's ruling nationalist Bharatiya Janata Party (BJP).

'India will not attack Pakistan or AJK'

Pakistan denies sending fighters into Indian held Kashmir but voices support for separatists seeking to end Indian rule there. The countries have fought two of their three wars over the Himalayan region. India's portion of Kashmir has been under a major security lockdown during more than two months of protests triggered by the July 8 killing by Indian security forces of Burhan Wani, a popular young commander of the Kashmiri separatist group Hizbul Mujahideen, whose leader is based in Pakistan.

In New York, Prime Minister Nawaz Sharif called on the UN General Assembly to investigate atrocities Pakistan alleges that Indian forces have committed in Kashmir. At least 78 civilians have been killed and thousands wounded in more than two months of clashes between protesters and Indian security forces there.
COMMENTS (25)
Comments are moderated and generally will be posted if they are on-topic and not abusive.
For more information, please see our Comments FAQ