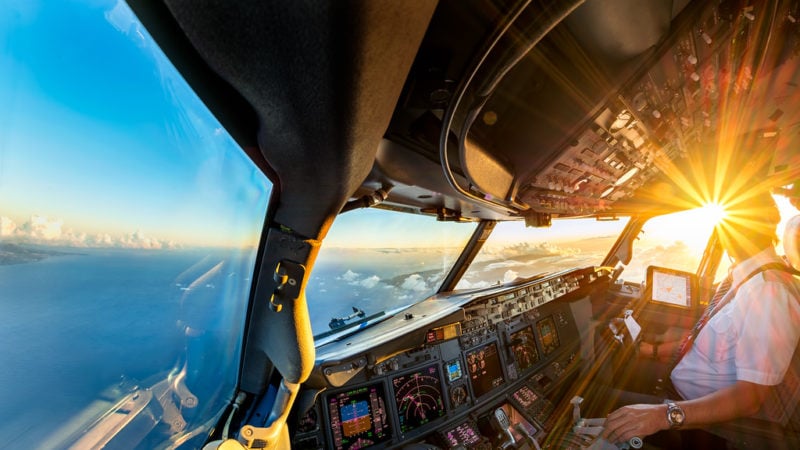 ---
With an ever-changing view of the world below the clouds, pilot and photographer Martjin Kort is able to capture views that most of us don't get from our office windows.

Every week Kort takes to the skies, 38,000 feet above in a commercial airliner and captures the world below. His passion for flying and photography go hand-in-hand as he aims to share amazing views of the world with others. "By showing the beauty of our earth from my perspective, I hope that people will take a moment and realise how beautiful it is out there," Kort tells The Express Tribune. 




Intrigued by Kort's skills of flying an aircraft and capturing stunning images simultaneously we wanted to know how he manages both at the same time. "I only take pictures when it's allowed (above 10,000 ft when the workload is low) and when the autopilot is flying the plane," he said, adding that "the pictures I take during landings are all remotely taken. I plan those, set it up during the cruise and then timers take over. This way, I don't have to watch or touch the camera and I can do my job as a captain."

13 spectacular photos of world's largest aircraft

And the result of combining photography and flying a plane are some of the most amazing views which Kort is able to share with the rest of the world.




"The birds eye view of the world is something that is different every time, especially during sunrise and sunset," Kort shared. "At night the world seems to be a completely different place. During clear nights the stars are bright and sharp and city lights are passing below. When you are lucky, you can see the milky way arcing through the sky."

Speaking on how he developed an interest in photography, Kort said, "As a kid I went to the mountains a lot with my parents. The views from the top of a 3 kilometre mountain are stunning. I was taking photos every time we went up."

World's largest aircraft takes rare flight

"When capturing a subject according to your vision, you have to study the subject and capture it in the best light possible. That play with light is something that I love to do."




Experiencing views from a cockpit window is difficult when trying to capture it through a lens. "You are moving at 900 kilometres per hour and the dynamic range is huge. (Dynamic range is the difference between light and dark) It's a challenge to capture the bright outside and the relative dark cockpit all correctly," Kort explained. "At night it's the other way around. The bright instruments and the dark night. But if you master it, the results can be amazing."

Although Kort's photographs seem almost effortless, there are times when safety must be prioritised over a photo opportunity. "There are moments when I can't take photos but the views were amazing. It's a pity that I wasn't able to share those views. Safety is my most important concern and a photo is never going to jeopardise that."




As effortless as they seem, a lot of work and practice goes into taking such stunning shots from so high up in the air as Kort shared. "I've spent a whole lot of time reading, studying, experimenting and trying what gear works before I got the results I'm achieving now. Apart from the compositions you need to understand the technical part of photography very well. The moments where the light is fantastic and everything lines up are so short, there is no time to guess what will work. You have to know how to capture a scene during difficult lighting."




Other than aviation photography, Kort has a penchant for architecture, city and landscape photography which he says he would happily take up should he have to choose between flying and photography.

"I'd pick photography. It's something that I can be creative with, challenge myself every time I go out there to produce something new and exciting. Flying is and was a dream job, but I've been doing it for 15 years now and have made it to where I wanted to be. I still love it, but it's not as challenging as photography," he said.




Kort's aviation collection boasts a variety of photographs captured during his travels but he speaks fondly of one photograph he took during a night landing in Amsterdam. "It was the first night landing that I successfully captured and to me it shows calmness in a very dynamic environment," Kort recalls.




"We are very busy during the landing. Communicating, doing checklists, flying the plane, calculating the speeds, taking the environment into account and so on. But when you would be sitting behind us, you wouldn't notice all of that. It's all happening in a short period of time, with only the necessary communication between us. Most of it happens in our head." The picture is representative of that. The cockpit is sharp and calm and the lights are flashing by trough the windows, representing the controlled chaos outside.


COMMENTS (3)
Comments are moderated and generally will be posted if they are on-topic and not abusive.
For more information, please see our Comments FAQ