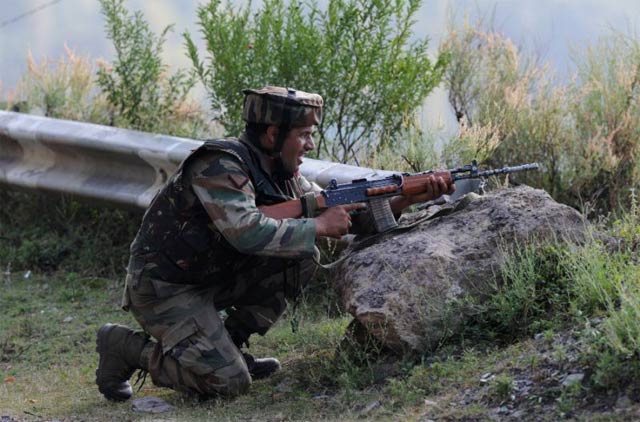 ---
Despite calls from its security establishment to consider 'limited but punitive cross-border strikes' inside Pakistan, New Delhi has ruled out any 'knee-jerk' reaction in the wake of a brazen attack on the Indian army's headquarters in the disputed Himalayan territory.

Eighteen Indian soldiers were killed by four militants in the attack on an Army Brigade Headquarters in the Uri area near the Line of Control (LoC) Sunday morning.

India weighs response to deadly Kashmir attack it blames on Pakistan

Hours after the attack, India's civil and military leaders squarely blamed a Pakistan based militant group Jaish-e-Mohammad (JeM) with media commentators calling for a military response.

Quoting unnamed sources, the Times of India on Monday reported there will be no 'knee-jerk' reaction 'anytime soon'. They said 'action against Pakistan' will be taken only after proper planning, coordination, exploring all options and taking everyone concerned into confidence.

Indian Minister of State for External Affairs VK Singh, too, appeared to echo the government's thinking, saying that no action
should be taken under the influence of emotions and anger.

"Having seen the army closely, I feel, it needs to be analysed as to what happened there ... It needs to be investigated how the incident took place and what were the lacuna" he said."... from the army's side, alertness is required. The Kashmir situation needs to be thought out. The action has to be taken without getting influenced by emotions, anger. It has to be taken coolly and with proper planning," he added.

According to the Times of India, the Indian army wants their government to also consider 'limited but punitive cross-border strikes' to send an 'unequivocal message' to Pakistan.

It said the Indian Army is also going to turn up the heat along the 778-km Line of Control (LoC) with concentrated artillery barrages, sniping and other operations.

Indian Army battalions, along the LoC as well as forward Indian Air Force (IAF) bases on the western front have in any case been put on 'full alert' to take care of any contingency, Indian government sources said.

Indian military asks govt to consider 'punitive' cross-border strikes

Though 'surgical strikes', covert military operations or 'hot pursuits' inside Pakistani territory may not be on the cards as yet, the army can certainly 'bleed' Pakistani troops without crossing the LoC, the newspaper quoted sources as saying.

However, some Indian officials have also cautioned against any adventurism against Pakistan, adding that Pakistan is no Myanmar, where Indian Para-SF troops conducted a transborder raid to take out militants in June 2015. "The government has to take into account that any strike inside Pakistan can escalate into an all-out war. Pakistan, of course, often threatens first-use of tactical nuclear weapons if it is attacked by India," said an official.

Meanwhile, former army chief Shankar Roy Choudhary has recommended that India should form its own 'fidayeen' or suicide squad. Chaudhary's remarks were aired by NDTV news channel.

Published in The Express Tribune, September 20th, 2016.
COMMENTS (15)
Comments are moderated and generally will be posted if they are on-topic and not abusive.
For more information, please see our Comments FAQ