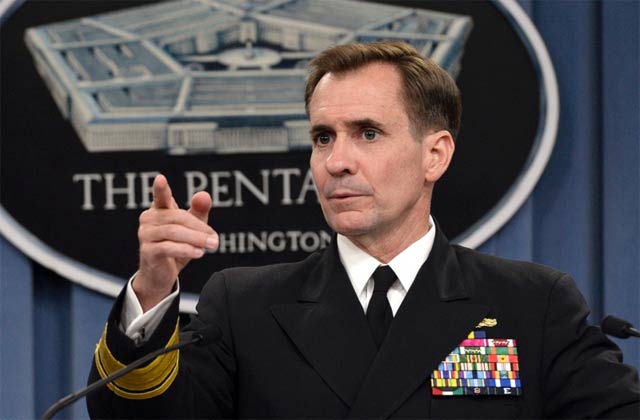 ---
The United States on Saturday said it is aware of the recent arrests of the Muttahida Qaumi Movement (MQM) leaders and is monitoring the events 'closely'.

"We're monitoring those events very closely. We're aware that Pakistani security forces have arrested some MQM members allegedly involved in violent protests and that these operations have included the closure and the demolition of offices deemed to have been illegally constructed," US State Department spokesperson John Kirby said.

MQM leader Khawaja Izharul Hasan released hours after arrest in Karachi

Addressing a press briefing, Kirby referred the concerned reporter to the government of Pakistan for "latest information" about the events. The statement comes hours after Karachi police arrested MQM leader Khawaja Izharul Hasan on Friday evening.

On being asked whether members of the MQM offices in US approached the State Department with their concerns, Kirby replied in the negative. However, the spokesperson said that US authorities "routinely communicate with Pakistani counterparts about issues like this."

Further, referring to Pakistan's stance on the ongoing Kashmir issue at the United Nations, Kirby reiterated that it is for Pakistan and India to decide on the pace and scope of bilateral talks.

Muttahida Qaumi Movement lawmaker Khawaja Izharul Hasan was arrested and released five hours later in a rare move by the Sindh police that triggered a political firestorm in Karachi on Friday.



High drama as MQM  leader arrested, then freed

Both the provincial chief minister and the prime minister intervened in the high-profile arrest by SSP Rao Anwar in a clear effort to ease the tension between the government and MQM.

The drama began with the news of a police raid at the residence of Izhar, who also leads the opposition in the Sindh Assembly. The MQM leader along with his party colleagues was in a meeting with Sindh Chief Minister Murad Ali Shah when he was informed about the raid.

When Izhar rushed back to his house in Buffer Zone, he was taken into custody by the Malir SSP over his alleged involvement in the May 12, 2007 carnage.

The police officer told the media that the raid was meant to arrest some of the suspects of the May 12 mayhem as well as Raees Mamma, the alleged head of the MQM's target killing squad. The suspects were said to be hiding at Izhar's residence.
COMMENTS (29)
Comments are moderated and generally will be posted if they are on-topic and not abusive.
For more information, please see our Comments FAQ