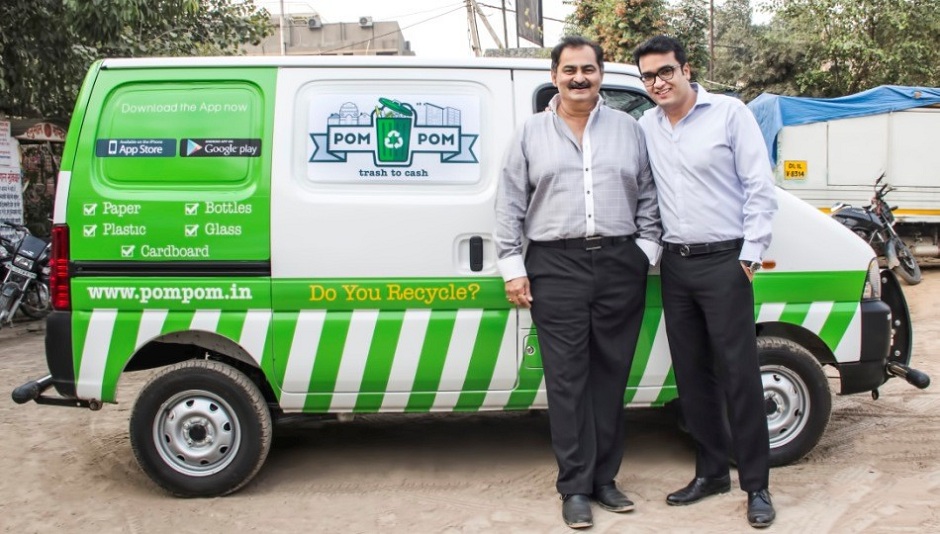 ---
Every weekend, in many Delhi neighborhoods, a man breezes in on a cycle and announces his arrival by shouting at the top of his lungs. "Kabadiwala…" His voice carries through the lanes as he moves slow and easy, a big jute sack and weighing scales bobbing up and down at the back of the cycle.

Many homes are ready for him. He is their scrap dealer (the Hindi equivalent is kabadiwala), the traditional go-to man for selling old newspapers, used glass bottles, metal knickknacks, iron rods – just about anything that can be recycled or resold.

For years, that is the informal system through which recyclable scrap has been collected from millions of Indian homes. But try selling him your toothpaste tubes, cereal box packs, or detergent bottles! Junk like that typically makes its way into the garbage.

Meet the startup that has both Uber and Grab as customers, and might outlast them

Now think of the numbers you are looking at. Urban India, with 377 million people, generates 62 million tons of municipal solid waste (MSW) every year – and only 25 percent of this gets treated. The rest ends up at dump sites, called landfills. Delhi alone is said to disgorge 9,000 tons of garbage every day.

This humongous problem prompted entrepreneur Deepak Sethi to launch on-call waste recycling startup Pom Pom in November last year.

"Our goal is to provide a one-stop solution for dry recyclables," Deepak tells Tech in Asia.

He and co-founder K.K. Thakur had been running a waste management company for several years and had experienced the difficulty of dealing with unsegregated solid waste first-hand. Going online to make people sort out and then sell all recyclables (even the less obvious ones) would be a good way to tackle it at the source, they thought.

Pom Pom has so far collected 1.5 million kilos of recyclables and handled 10,000 orders – from households in south Delhi as well as corporates in the industrial town of Noida.

Junk online

Once a household contacts them – through the app, call center or website – Pom Pom sends its team as per the convenience of the customer. Like the kabadiwala, they too pay cash for your trash.

An Indian scrap dealer usually buys things by weight – be it newspapers or metal. Glass bottles are bought per piece. You can bargain a little and make a few extra bucks.

"Our rates are competitive with the informal system," says Deepak. (That's quite true because they pay US$0.15 a kilo for iron, and my kabadiwala pays US$0.19.)

More than the pricing, however, what impresses about Pom Pom is the sheer range of things it is willing to buy. Cardboard cartons, yoghurt packs, toothpaste tubes, shoeboxes, or shredded paper – the company treasures it all. It will even take care of that growing headache of e-waste.

"What about old stereos?" I ask, eyeing the 15-year-old music system collecting dust in my living room.

"We are authorized by the Delhi Pollution Control Committee to collect e-waste. So we will definitely buy an old stereo," replies Deepak.

Pakistani start-up leaves Facebook founder impressed

So, as a savvy recycler, you could technically work with both the kabadiwala and Pom Pom – you'd figure out what each takes and who pays most for what.

A little matter of habit

Several startups like Extra Carbon and Encashea have gone into waste recycling in Indian cities. Some like Attero Recycling and Karma Recycling have a sharp focus on e-waste.

Trouble is, people are simply not in the habit of segregating waste at its source in India, and are quite impervious to the resultant damage to the environment.

My daily waste, for instance, gets collected from my doorstep by a waste collection organization that has a contract with my residents' welfare association (RWA). There is no waste segregation done by me.

"Your garbage goes to the neighborhood dump. Kabadiwalas pick up some recyclables from there, the rest is taken away by the civic agency," says Prem Pal, the man who collects my garbage. Most of it goes to a massive landfill.

Lack of space to store recyclables could be a problem in small city apartments that dispose their garbage daily. The sheer magnitude of the garbage problem, however, should prompt us to welcome these startups. It's another face of green tech, isn't it?

Blowing the horn

Pom Pom borrows its name from the cheerful sound a kabadiwala's squeeze horn makes.

The company has been tying up with RWAs and corporate offices.

It also buys from ragpickers – people who have traditionally played a key role in waste segregation in India by operating in extremely unhygienic environs like garbage dumps. The waste I've been too lazy to sort can thus still reach Pom Pom. It gives ragpickers more options to sell what they find.

The startup has been reaching out through the social media, word of mouth, fliers, direct emails, and billboards (like a huge one I saw at my neighborhood garbage dump). "Our team has conducted workshops with 6,000 students at over 20 schools," says Deepak.

Oracle, H&M, Wipro, and ICICI Bank are among its prominent clients. While corporates usually require fortnightly pick-ups, a regular household needs it once in three weeks, translating to around US$4 worth of waste.

"We have not imposed a minimum quantity for our visits because it is important for residents to first get into the habit of segregating waste at source and storing it for recycling," says Deepak.

This Pakistani device claims to slash power bills by 25%

Once collected, the waste is taken to the startup's collection facility where it is further segregated, crushed, and packed before being sent to end-recyclers.

"We sell it to end-recyclers in bulk at a margin," says Deepak explaining how they monetize. "Eventually we want to set up recycling plants as well for different categories of waste."

The magic of recycling

Did you know that plastic mineral water bottles can be turned into polyester yarn? That if you recycle 907 kilos of paper, you can save 17 trees?

I certainly didn't. But now recycling sounds like fun.

Deepak is happy to add another fun fact about garbage.

"We know the shampoo you use, the cereal you eat, the magazines you read, and how much you shop online," he says. "Your waste tells us a lot about you!"

This article originally appeared on Tech in Asia.
COMMENTS
Comments are moderated and generally will be posted if they are on-topic and not abusive.
For more information, please see our Comments FAQ