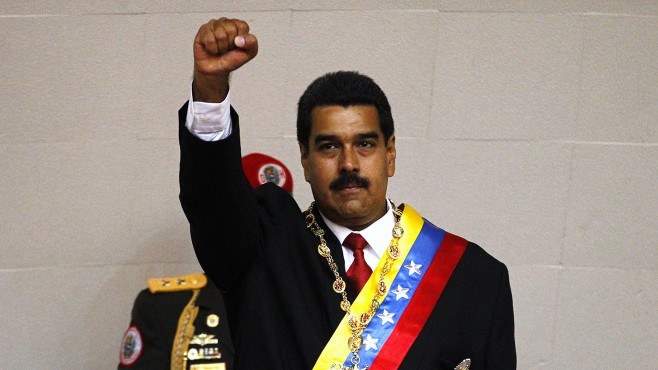 ---
CARACAS: Venezuela's opposition failedto draw large numbers on Friday in its latest protests against President Nicolas Maduro, and the national election board delayed a decision on the next stage of a possible referendum on his socialist rule.

The Democratic Unity coalition is running out of options to force a plebiscite this year to trigger a presidential election should Maduro lose.

If a referendum is held in 2017 and he loses, the vice president would take over for the second half of Maduro's six-year term, ensuring the Socialists stay in power.

Venezuela opposition seeks president's ouster

Maduro, 53, has seen his popularity plummet with the failing economy and is determined to stop a referendum this year that polls show he probably would lose.

The election board said a meeting to organize the next stage of the referendum process - the collection of 20 percent of voter signatures, or about 4 million - was postponed to Monday because of "threats" to the institution.

That was a reference to the opposition's latest street rallies on Friday to protest foot-dragging by the election board, which it accuses of bias.

Despite a Sept. 1 march that drew an estimated 1 million people, only hundreds turned up on Friday due to a mixture of fatigue, apathy and the need to stand in line for food.

Venezuela's Maduro extends economic emergency measures

Opposition leader Henry Ramos said given the last-minute call for protests and that people were facing a "dictatorship," the mobilization was still a success.

Venezuela's 30 million people are suffering shortages, triple-digit inflation and a third year of recession.

That has led to looting, fights in lines and spontaneous demonstrations that could be a bigger threat to Maduro than the coalition-organized rallies.

"The situation is intolerable. I'm sick of lines, I can't find food or medicines," homemaker Edelmira Flores, 59, said as she waved a banner in a Caracas square on Friday.

Massive food imports arrive in Venezuela from Trinidad and Tobago

One of the opposition coalition's parties, Justice First, said five of its activists had been arrested overnight in Zulia and Anzoategui states, amid what activists say is a wave of repression by the Maduro government.

Officials say the increased opposition militancy masks a U.S.-backed coup plan, and have been displaying stashes of weapons and explosives to try and prove that.

"If we don't defend the revolution, we're finished," said Martha Rojas, 44, at a pro-Maduro rally in Caracas also attended by just a few hundred people.
COMMENTS
Comments are moderated and generally will be posted if they are on-topic and not abusive.
For more information, please see our Comments FAQ