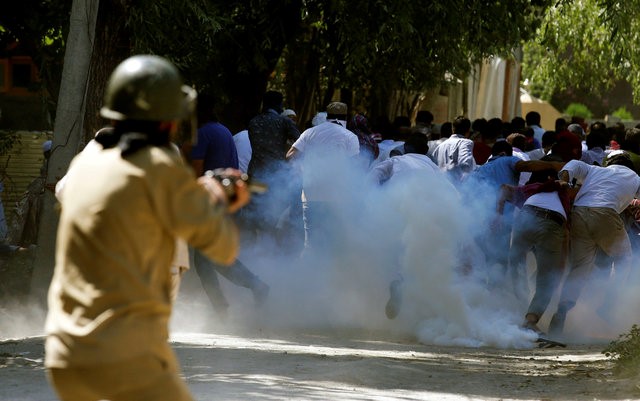 ---
GENEVA: Pakistan has urged the international community to come to the aid of Kashmiris facing massive human rights violations at the hands of Indian security forces as Islamabad and New Delhi traded barbs over the disputed Himalayan state at a United Nation's rights council in Geneva.

The call came after the UN Human Rights Commissioner (UNHCR) Zeid Raad al-Hussein called on India to grant his observers access to Kashmir.

Independent probe into Kashmir unrest mandatory, UN rights chief says

The disputed Himalayan region has spiraled into violence for the past two months since Indian security forces killed separatist leader Burhan Wani on July 8. His killing sparked violent protests throughout the valley with New Delhi.

Curfew, imposed for much of the past two months -- including on Eidul Azha, did little to deter protesters who came out in force. Subsequent clashes left over 100 people dead and more than 10,000 injured. Most of those injured suffered from metal pellets fired by Indian forces which caused dozens to lose their eyesight.

During the 33rd session of the UN Human Rights Council in Geneva, India on Wednesday had blamed Pakistan for the disturbance in Kashmir and using terrorism as state policy to further territorial ambitions.

India's Ambassador and Permanent Representative at the UN in Geneva Ajit Kumar alleged that Islamabad was misusing the UN body to make tendentious references about internal matters pertaining to Jammu and Kashmir. He reiterated that the disputed state was an integral part of India.

"We reject attempts by Pakistan to denigrate the democratic choice that has been regularly exercised by the people of J&K," Kumar stated.

In their right to reply, the Pakistan delegation headed by Permanent Representative of Pakistan to the United Nations Ambassador Tehmina Janjua rejected the "patently absurd" assertions made by the Indian ambassador.

"It insults the intelligence of UNHRC with the usual twisting of historical facts, obfuscation of their repressive role, and outright denial of well documented violations of human rights in Indian-occupied Kashmir (IOK)," Janjua said.

She reminded the council that Jammu and Kashmir was an international issue which was recognised as such by a number of UN Security Council (UNSC) resolutions.

Kashmiri activist says blocked from leaving India

"Can India deny there are over 700,000 military and paramilitary forces deployed in IOK, which amounts to a shocking ratio of 1 military person to 70 civilians?" she asked.

The ambassador further rejected New Delhi's claim of exercising restraint over the volatile situation in the disputed territory.

"In just six weeks, if this restraint has resulted in 90 deaths, 800 injured, with 160 being blinded due to deliberate targeting of civilians, then this is a definition of restraint which is unique to India only," she remarked adding that India was in denial over the thousands of civilians killed since 1989.

In the second right of reply, Janjua challenged her Indian counterpart's inability to own up to fact that the situation in IOK flows from the "nature of the Indian occupation and their unceasing oppression of the Kashmir people".




"Even in their own parliament, individuals have accepted that Indian policies were at the root of the misery of Kashmiris."

Pakistan urged the international community to come to the aid of the Kashmiri people against an Indian state, which refuses to see reason and denies the facts on ground.

What are you hiding?

Earlier, while delivering his opening remarks, al-Hussein warned that human rights violations will not disappear if "a government blocks access to international observers and then invests in a public relations campaign to offset any unwanted publicity" in a veiled swipe at New Delhi's belligerence at denying access to independent investigators.

"Efforts to duck or refuse legitimate scrutiny raise an obvious question: what, precisely, are you hiding from us?"

The UN rights commissioner confirmed that Pakistan had sent him an invitation to visit Azad Kashmir, but noted the same invitation was not forthcoming from New Delhi.

Pakistan rejects Indian claims of restraint in Indian Kashmir

"I believe an independent, impartial and international mission is now needed crucially and that it should be given free and complete access to establish an objective assessment of the claims made by the two sides." He urged Islamabad and New Delhi to grant access to both sides of the LoC.

Janjua said Pakistan supported the UNHCR's stance to send independent observers to the disputed territory and impartially investigate the violations.

"Indian obduracy is disallowing outside observers to IoK is testimony to the fact that the Indian government wishes to hide atrocities unleashed against the Kashmiri people," she added.

Published in The Express Tribune, September 16th, 2016.