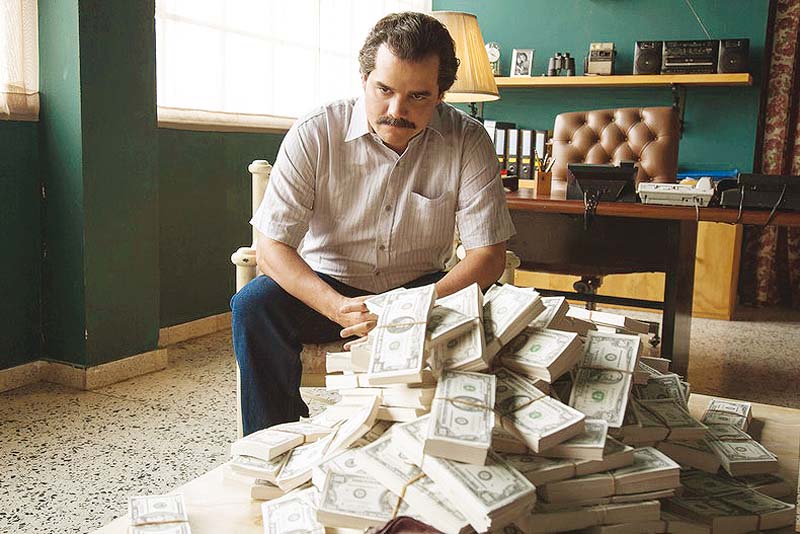 ---
Season two of Narcos may have delivered the end of Pablo Escobar but Netflix has renewed the gripping show for two more seasons.

Talking to The Hollywood Reporter, executive producer Eric Newman revealed how the famous death scene was recreated and what viewers can expect from the upcoming episodes.

The show revolves around the notorious Columbian drug lord, which is why the first question that comes to mind is, how Narcos will continue without El Padrino? "The show certainly leaves some obvious follow-ups and stories that we can tell," revealed Newman. The producer added that the third season will focus on Escobar's successors of the Cali cartel.

The show runner also shared what it was like to say goodbye to leading man Wagner Moura on the actual Medellin rooftop where Escobar was gunned down in 1993 and how, with the help of the real American Drug Enforcement Agency agents, Steve Murphy and Javier Pena, they brought Escobar's infamous final moments to life.

"From the beginning when we decided to call the show Narcos and not Pablo Escobar, I had always had in mind to tell the continuing story of cocaine," said Newman. "Jose [Padilha], Doug [Miro], Carlo [Bernard] and I wanted to tell a story about the drug war and never just about one person or organisation. We had always planned on continuing on."

The end of season two saw the perfect, most chilling recreation of Escobar's death, and brought the image of the Columbian police force posing with his corpse back to mind. "That was in my mind since season one … that we were going to recreate that photo," recalled the producer. "It's a haunting image. It's almost a hunting trophy. I like to think that the smiles are slightly born of post-traumatic stress disorder. It's ugly. I'm glad he's dead, but it's a strange thing to celebrate anyone's death, particularly when it doesn't change anything."

He added that it was difficult to bid farewell to Moura, who had so far been the main face of Narcos. "It was all very emotional," shared the executive producer. "It was emotional for him and it was a strange goodbye. Here we are with this character that we've spent two very intense years with in Bogota, doing this amazing thing that we were so fortunate to be able to do. Moura is truly unbelievable. I think he's one of the best actors in the world and he's also one of the best guys in the world. I clearly come down on the side of the viewers who don't want to see Escobar go."

The third season will pick up from where the second left off, but the producer promised new twists. "A guy like Escobar was going to be replaced by, in some ways, a more pervasive and more insidious organisation like Cali, which had a corruptive influence that went way beyond the outlaw. It will now be difficult to tell the good guys from the bad guys."

The cast is going to be a mix of old and new actors. "We like telling the story of some of the unknowns in the drug war. The Limon-Maritza story really resonated with people and I'm proud of that. It's a multiple narrative so there will be a number of new stories that hopefully will be captivating," shared Newman.

There were also speculations that the show will witness the entrance of another famous drug lord, El Chapo Guzman, but the producer neither confirmed nor denied this. "Chapo was one of the guys in the Guadalajara cartel before it splintered. In our show's timeline currently, that's already happened because that was in 1985. So it depends. If we take our time, it could take a while. If we jump right into it, it could be really soon."

Published in The Express Tribune, September 13th, 2016.

Like Life & Style on Facebook, follow @ETLifeandStyle on Twitter for the latest in fashion, gossip and entertainment.
COMMENTS
Comments are moderated and generally will be posted if they are on-topic and not abusive.
For more information, please see our Comments FAQ